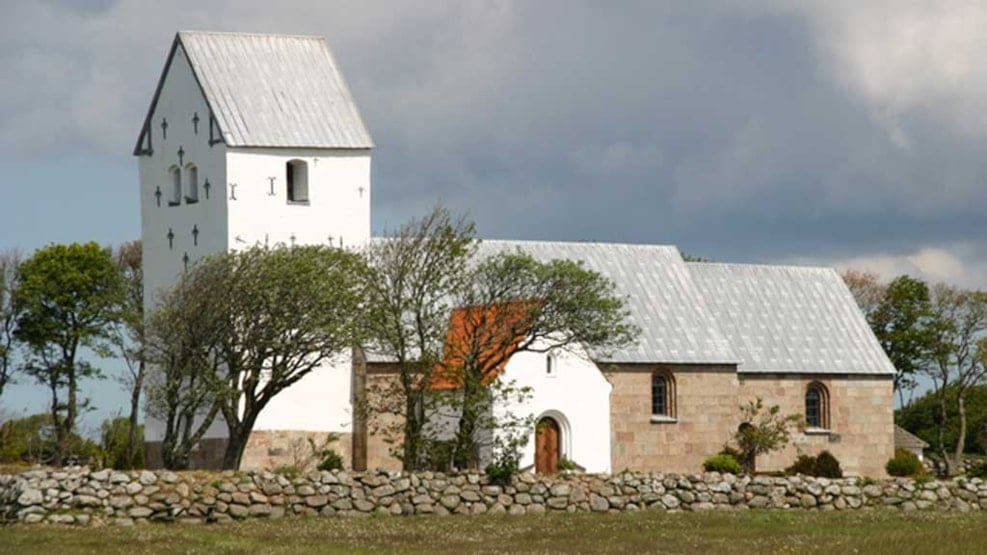 Aggersborg Church
With a view of the Limfjord and the neighboring Viking fortress Aggersborg, Aggersborg Church is located. If you want to experience one of Denmark's best situated churches, don't deprive yourself of a stop at Aggersborg Church.
Aggersborg Church is a church in Aggersborg Parish in Vesthimmerland Municipality. Located high up near the Limfjord coast, it has been used by seafarers for centuries for navigation in the Løgstør Inlet.
With its unique geographical location by the Limfjord, Aggersborg Church is one of the most beautiful village churches in the region, and from the church, there is a fantastic view - all the way from Vejlerne in the west, Livø in the southwest, to the course of the fjord towards the east. The church is also located in close proximity to the famous Viking fortress of Aggersborg.
Aggersborg Church was first built around the year 1100 as a choir with an apse made of fieldstones and a wooden nave. In the late 12th century, the wooden nave was replaced with a larger nave made of granite ashlar. As is customary in Romanesque church architecture, two entrances were built. One door for men and one door for women. The choir and nave still stand as they did around the year 1200.
The tower and the original south-facing porch are Late Gothic, from around 1400. At this time, the men's entrance was still in use, but the women's entrance had been bricked up. Likewise, the apse was removed, and the slightly curved ashlar stones from it can be seen reused in the east wall of the choir. In 1884, the porch was rebuilt in yellow brick and replaced the previous porch. All the roofs are covered with lead, which gives a striking gray color when viewing the church from a distance.
The chancel arch has been preserved in its original form. The choir and nave have flat ceilings, and throughout the choir and nave, there are gray-painted floorboards. The lower room of the tower is connected to the nave via a pointed arch. The tower room was once a burial chapel and is now separated from the nave by an iron grille. In the north wall of the nave, there is graffiti that is about 800 years old.
Destination Himmerland © 2023