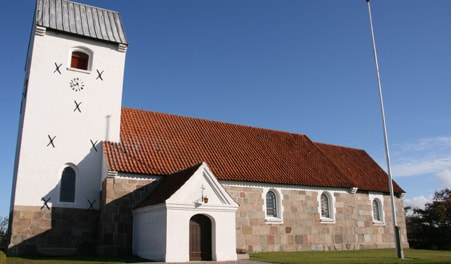 Alstrup Church
The church of Alstrup lies to the west of the village of Alstrup overlooking the beautiful broads of Louns Bredning.

The church dates back to the early 13th centry. It is made of granite ashlars with nave an chancel in Norman style.

The original tower was pulled down in 1772 but rebuild in 1946. The north wall holds the narrow priest's entrance which can still be seen, though walled up.

The interior of the church is impressive because of its simple design. The chancle and the nave have a beamed ceiling. The baptism font and altar are of granite.Next to the Holy Cross on the Communion table stand tree figures from a late-Gothic altarpiece from around 1450.