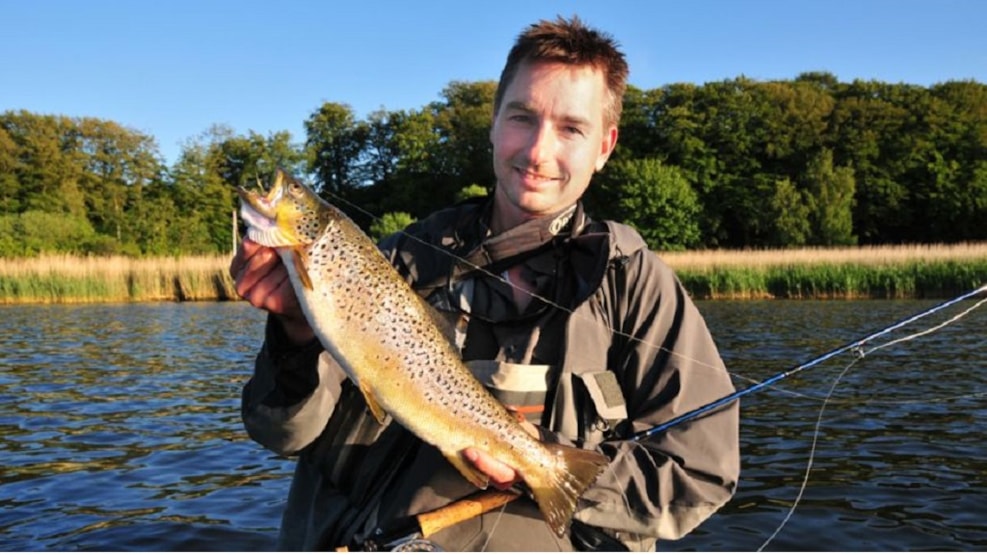 Angling in Mariager Fjord - Seatrout Mariagerfjord
Sea trout is one of the most popular fish among Anglers, and Mariager Fjord is known as some of the best trout fishing waters in Denmark.
The trout in Mariager Fjord is not just well fed, but close to obesity. The trout has a unique combination of red, brown and golden shades. And they appear in such large numbers, that it makes trout fishing something quite unique in Denmark and even in Europe.
The "An Anglers Paradise" brochure focuses on trout fishing in Mariager Fjord. But You can also read about the other species of fish in the fjord, tips and tricks, recipes and the most exciting fishing spots in Mariagerfjord.
On our page about fishing in Mariager Fjord, you can learn more about the fishing opportunities here! 
Fishing kayak or dinghy
Besides the many fishing spots in the waterline of Mariager Fjord, There are at least the same number of fishing spots on the fjord - Therefore we recommend fishing from a fishing kayak, which is the ultimate tool when fishing on Mariager Fjord.
A fishing kayak or a dinghy can improve your chances for finding the best fishing spots. If You don't own a fishing kayak or a dinghy, You can rent them here.
Mariager Fjord is truly "An Anglers Paradise"
Good luck!
Destination Himmerland © 2023