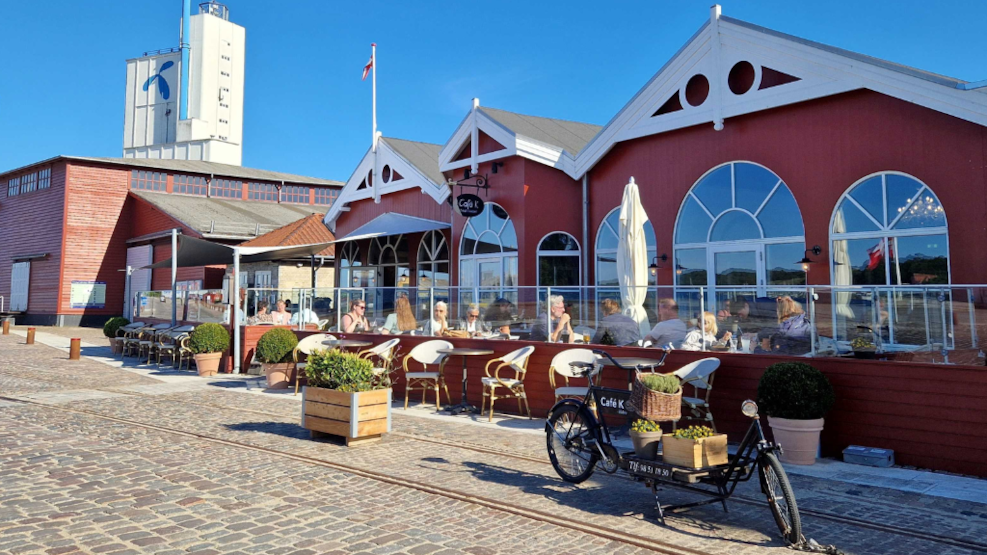 Cafe K in Hobro
At Café K in Hobro, you are always guaranteed a wonderful dining experience in lovely maritime surroundings at the harbor in Hobro.
At the end of Denmark's most beautiful fjord lies Café K.
Here you can enjoy a nice lunch with friends or grab a cup of coffee accompanied by home-baked cake. Maybe it's a glass of cool white wine on a warm summer's day that draws you in? Or the evening menu, which offers delicious and flavorful dishes that can be enjoyed while the evening sun shine beautifully above Mariager Fjord.
There are many options at the cozy café at Hobro Havn. There is no doubt about the cafe's great love for Danish and French cuisine and focus on fresh seasonal ingredients. You can look forward to diving into the menu, then having one taste experience after another in the carefully selected dishes, most of which are homemade.
Café K also offers take away and has a daily menu with three courses, that vary from day to day with exciting, delicious dishes.
Make yourself comfortable at Café K in Hobro. Quality and coziness are paramount here!
See the menu for both lunch and dinner here!
A gastronomical experience at Hobro Harbor
Café K in Hobro is located with a view of the beautiful Mariager Fjord. With its location at Hobro Harbor, the café is close to all the wonderful experiences that await in Hobro.
The tour boat Svanen (The Swan) docks right outside the door. Perhaps you would like to go on a sailing trip, jump off at Bramslev Bakker and walk along the Panorama-Route back to Hobro? When hunger strikes, Café K can help. Enjoy the food inside in cozy settings, or out on the terrace where there is shelter from the wind, and a guarantee of a beautiful view of the fjord.
Read more about the experiences at Hobro Havn, also called Kulturkajen (The culture Warf) here!
Private events
The place is also ideal for a good party - in 2022 the two beautiful event areas were completed, after a major renovation and expansion. The two areas can be combined and one large area will then be ready with space for approx. 80-90 people.
Read more about the opportunity to hold a party at Café K here!
Destination Himmerland © 2023