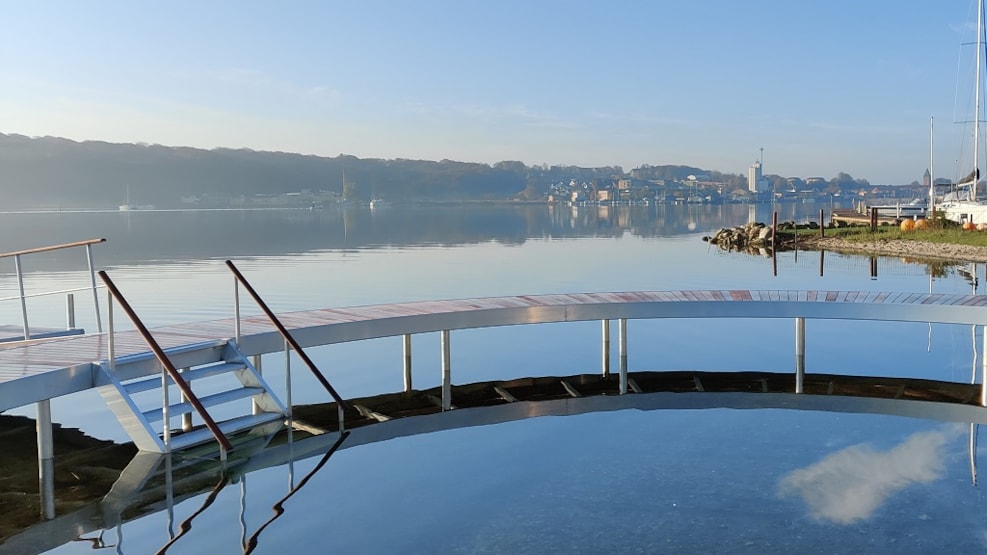 The circular bridge at Sildehagen, Hobro
Like a true viking you can jump into the water regardless of the season via the circular bridge in Hobro.
In the fall of 2021, Hobro got a brand new attraction. A circular bridge that gives water dogs the opportunity to jump into the sea in what is probably Denmark's most beautiful fjord - Mariager Fjord.
The bridge, which, as the name suggests, forms a circle, has an additional element, where a floating bridge at the end, with two ladders to the water, makes it easier for users to immerse themselves in Mariager Fjord. Inside the circle, where the water is even lower, a staircase is the starting point for families with children to bathe and splash in the water, a little sheltered from the waves.
The circular bridge is located close to Hobro Sailing Club at the area known as Sildehagen. Sildehagen, which is also part of The Panorama-Route in Mariagerfjord, is a favorite excursion destination for many who want to be in nature, have a small picnic or simply take a break from the hike and enjoy the beautiful views of water and hills.
Winter bathing
If you love being in the water all year round, the bridge can also be used in winter. During the winter period, the floating bridge has been replaced with a single staircase, so that winter bathers can more easily descend into the water.
There is no sauna on site, so remember to bring some extra warm clothes with you on the trip.
Keep an eye on the calendar, where you can see when Outdoor Hobro has events like "Fjorddyp" with the option of using a mobile sauna on site.
The key from Fyrkat
The circular bridge, which is also called the Key Bridge, leads one's thoughts to Hobro's Viking past. The Viking town and Fyrkat Viking Museum in particular have been great sources of inspiration for the bridge's design and development.
Seen from above the bridge looks like the key that was found in a grave at Fyrkat, where a Viking sorceress - Vølven - was found.
In addition to Vølven and several pieces of jewelry, a chest with a lock and key was found in the grave. In the Viking Age, the key was a marker of the woman's status and role in society. It was the housewife who was the key bearer and with this she controlled access to the valuables in chests and caskets.
This circle bridge aims to tell the story of a strong and special woman who, to this day, still means a lot to Hobro and the town's history.
Accessibility
With its ramp from the water's edge and the wide staircase with railings the bridge also makes it easier for people with walking difficulties and other disabilities to use the bridge.
The bridge was established by a group of volunteers and Hobro Tourist Association in 2021.
Destination Himmerland © 2023