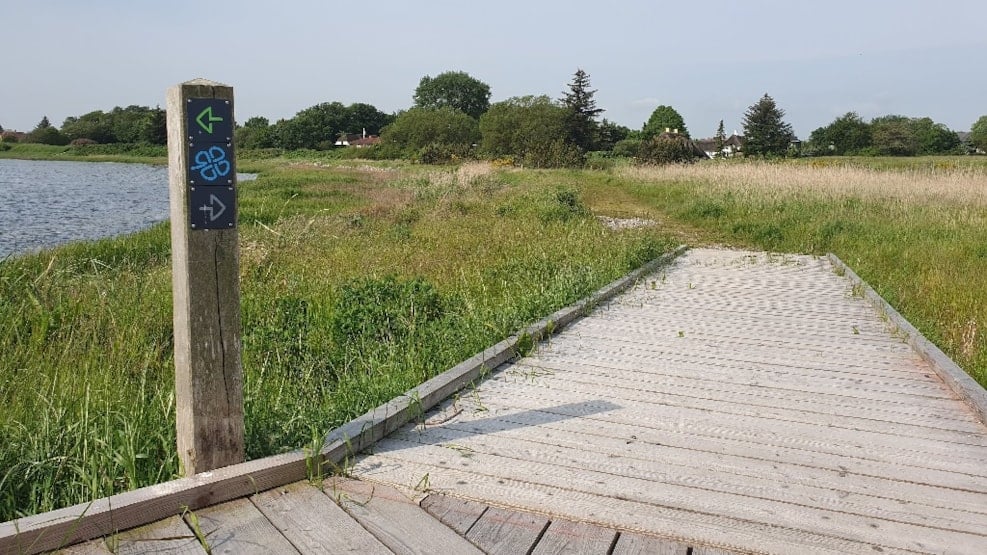 The Clover Trails in Øster Hurup
We welcome you to The Clover Paths in Øster Hurup, which is for you who want to go out and combine experiences and fresh air with exercise on your vacation. Explore the beautiful nature and get to know more about the city of Øster Hurup. 
There are four different routes, each with its own distance - find all the routes under the following links.
Green Clover Trail 2.5 km
Blue Clover Trail 5 km
Red Clover Trail 7.5 km
Black Clover Trail 12 km
All routes originate from the tourist office in Øster Hurup and are signposted in both directions. You can obtain a map at the tourist office, pick one up at the pylon, or find it online.
In addition to the map, you will also receive a bundle of fun facts, tasks, and small anecdotes about the area. This way, you can also learn more about Øster Hurup while exploring.
The routes are for everyone, including our four-legged friends. We encourage you to always keep your dog on a leash and pick up any waste.
Here, you can choose your favorite route, and as you walk, you can discover all the sights and the little stories. If you happen to have any doubts, there are accompanying pictures you can follow.
The Clover Trails are a nationwide project supported by the Danish Outdoor Council. You can read more about the many trails throughout the country and their background here.
In Øster Hurup, these trails have been created with the help of dedicated volunteers, so if you notice any errors or deficiencies during your journey, we would greatly appreciate it if you could inform us at the tourist office.
Thank you in advance - and enjoy your journey!
Destination Himmerland © 2023