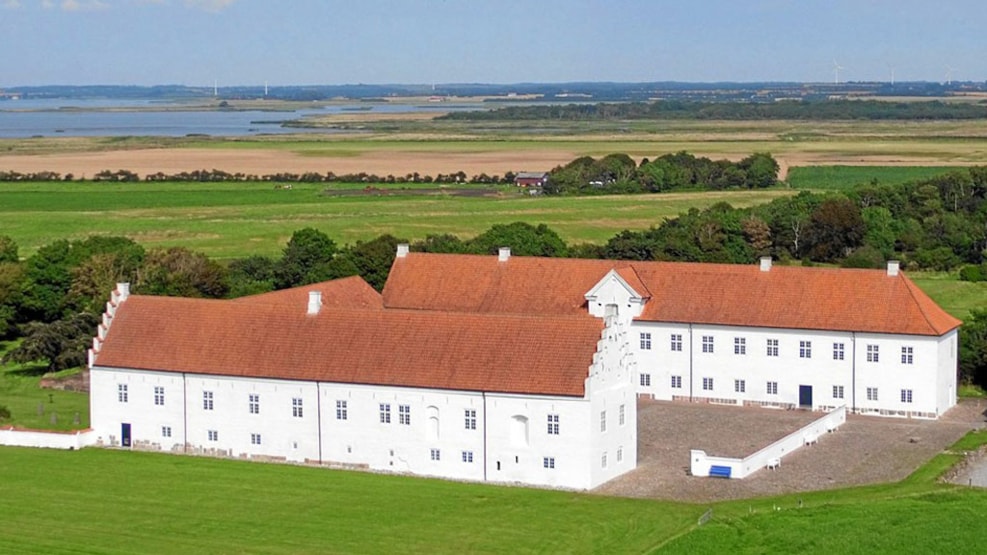 Danhostel Vitskøl Kloster
Stay well and affordably at Danhostel Vitskøl Monastery and be close to nature, culture, and attractions.
In Vesthimmerland right by the Limfjord
It is one of Northern Europe's oldest monastery complexes. A historical gem that today presents itself as a unique architectural complex, which can serve as the setting for accommodations for tourists, as well as courses and conferences. The facilities are characterized by grandeur, simplicity, and quality. Perfect for your stay by the Limfjord in Ranum.
From Danhostel Vitskøl Monastery, it's a 5-minute walk to your own beach, located on the western coast of the Limfjord with a view of Livø. Behind the Monastery, there is a large forest with ample opportunities for walks and runs among beech and deciduous trees, and in the nearby plantation, Uhrehøj, you can go Mountain biking on established routes through the area. Within walking distance from the Monastery lies Lake Vilsted. With its 450 hectares, the lake is the largest freshwater lake in Northern Jutland. On a walk along the lake, you can experience the Monastery's Hereford cattle and sheep grazing on parts of the 20 km hiking trail around the lake.
Every October, a large Medieval Market is held at Danhostel Vitskøl Monastery.
Jugglers, knights, animals, and medieval food can be experienced over several days, with activities for both children and adults. You can experience the Middle Ages through taste, smell, and sound. Witness knights fighting, the noblewoman tending the fire and cooking, or jesters playing a characteristic melody from the Middle Ages.
The annual Christmas market is always worth a visit
Adorned with spruce, lights, and decorations, the Monastery looks beautiful and there will be sales of everything your heart desires - handmade Christmas decorations, jewelry, paintings, felt, knitting, wickerwork, glass art, and ceramics, as well as Christmas treats, smoked goods, wine, chocolate, and organic fruits and vegetables. Furthermore, there will be decorations for the terrace, greenery, and ornaments. On the occasion of the Christmas market, the gate to the Monk's Cellar is open. Here, you can satisfy your hunger. At the same time, there will be an opportunity to take a closer look at the many beautiful old rooms in the monastery.
A modern accommodation and educational venue
In addition to being a Danhostel and destination, Vitskøl Monastery is also a modern educational institution. Vitskøl Monastery is operated by the Vocational School's Labor Market Education, TAMU, which is a nationwide educational system for disadvantaged young people who can gain a foothold in the labor market through this program. The young people in training maintain the monastery, tend to animals and landscape, prepare meals, and manage the monastery garden. This way, Vitskøl is not just a piece of Danish history but also a vibrant piece of the present.
Our famous gardens - Free admission when staying at Danhostel TAMU Vitskøl Monastery
Visiting our monastery garden in the summer months is an inspiring experience for those interested in cultivating ornamental and utility gardens.
Destination Himmerland © 2023