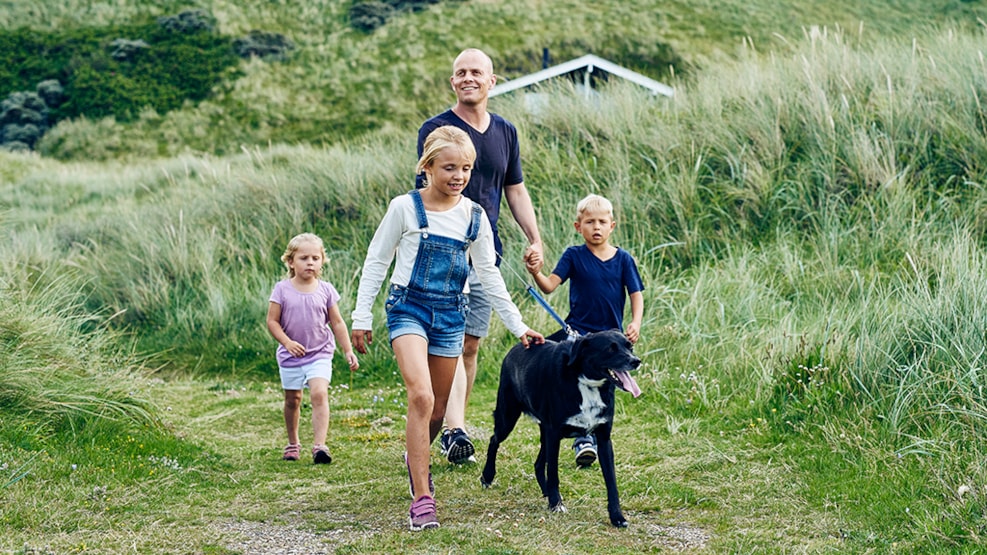 Dog Forests
Dog Forests
Notice that many of the dog forests are located a bit away from the parking spots. Therefore it is important that your dogs are kept on a leash until you reach the dog forests – unless otherwise is shown by signs.
You can find garbage cans by most of the dog forests, but if you cannot find any, please keep your garbage until you find a garbage can nearby or when you get home.
Below we have made a list with the dog forests in the area. We hope you and your dogs will enjoy them!
Nørager Hundeskov
Sortebakken 11
9610 Nørager
GPS: 56.6991577 – 9.6320267
A fenced dog forest (7 acres) located south-east from Nørager to Hobro. The site has a playground and a place for a bonfire, but no toilets.
Hadsund Lilleskov Hundeskov
Hasselholt 11
9560 Hadsund
GPS: 56.7307950 – 10.1168867
A fenced dog forest (5 acres) located a little north of Hadsund. The site has tables and benches and some water for the dogs.
Arden Hundeskov (Rold Forest)
Skovvej 91
9510 Arden
GPS: 56.7788020 – 9.8617340
A big fenced dog forest with different terrain and some of the places can be very wet. The site is located about 1 kilometer north of Arden, and the site has a playground, a place for a bonfire and more.
Den jyske Skovhave
Møldrupvej 22
9520 Skørping
GPS: 56.8182610 – 9.8811470
'Den Jyske Skovhave' is the eldest fenced dog forest in Denmark (14 acres). Several places in the forest, you can find tables and benches, some of the mare covered in case of rain. In the middle of the forest you can find a lake as well. There are toilet by the parking spot.
Lundby Krat Hundeskov
Hadsund Landevej 422
9260 Gistrup
GPS: 56.9879680 – 10.0041030
A fenced dogforest (1,6 acres) located north of Lundby Krat – east of Hadsund Landevej. There are several tables and banches in the forest and by Krathuset south of the forest. At Krathuset you can also find a place for a bonfire and water.
Poulstrup Sø Hundeskov
Gultentorpvej 29
9260 Gistrup
GPS: 56.9722443 – 9.9382706
A fenced dog forest (1,6 acres) located between Visse and Nøvling.
Øster Tørslev Hundeskov
Naturstien
8983 Gjerlev J.
GPS: 56.5873849 – 10.1779011
A fenced dog forest (10 acres). Parking spots can be found at Undervisningsskoven (Bakkegårdsvej 10).
Sønderskov Hundeskov
Fussingøvej 23
8920 Randers NV.
GPS: 56.4638917 – 9.8499466
Sønderskov dog forest is located by Fussingø sø forest (35 acres). The dog forest is in a fenced area down Fussingøvej, close to the parking spots. Notice that passing the red gates does not mean you have entered the dog forest – you have to go a little further up the hill until the next parking spots (on your left).
Hundekravlegården
Majsvangen
8920 Randers NV.
A small fenced place for dogs that can be used between 08.00-22.00.
Sjøstrup Hundeskov v. Aars
Roldvej 2
9600 Aars     
GPS: 56.8038810 – 9.5396509
A small fenced dog forest (0,5 acres) with easy terrain. The site has a water area and tables and benches.
Aars Skov
Blærevej 1
9600 Aars
GPS: 56.8187561 – 9.5079536
A fenced dog forest (4 acres) that even has a special fencing for puppies and smaller dogs. The site is easy to use by wheelchairs or if you have difficulties walking. The site has tables and benches.