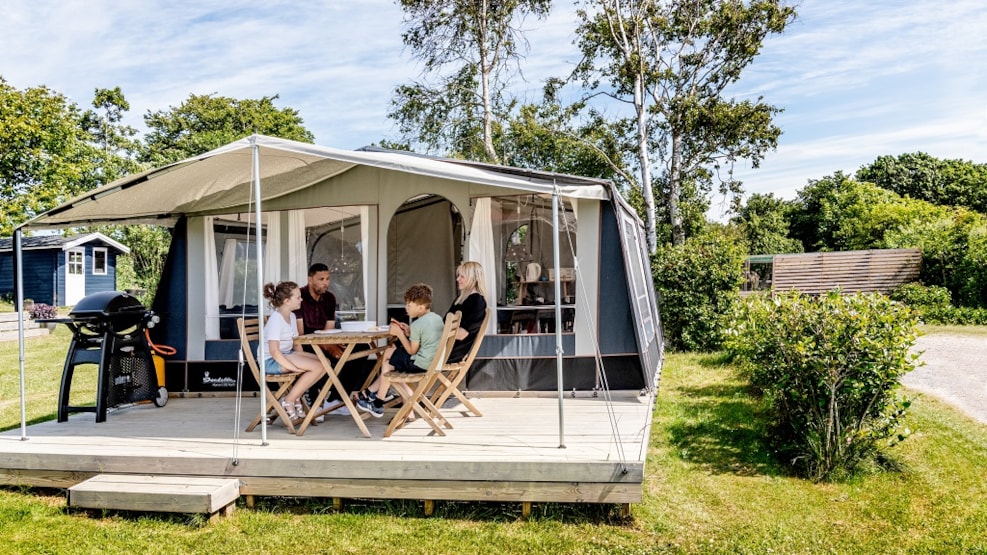 Ertebølle Camping
Cozy and tranquil campsite amidst the beautiful Himmerland nature.
Is this year's vacation all about camping, nature, and, most importantly, lots of fantastic family experiences? Then make your way to Ertebølle Strand Camping on the breathtaking coast of Limfjord. Whether you bring a tent/caravan or rent one of the campsite's luxury cabins, you can look forward to a delightful stay in beautiful and secure surroundings.
The campsite is equipped with everything you could wish for - from excellent bathing and toilet facilities (the newest toilet building was built in 2021) to a huge playground with climbing castle, jumping pillow, trampolines, mooncar track, swimming pool, and krolf courses. When hunger strikes, you can visit the café, renowned for its delicious pancake dishes, or stop by the campsite store, which offers everything from fresh bread to groceries, toys, and large traditional ice cream cones.
If you have the youngest members of the family on vacation, you can safely let them explore the site on their own - they quickly become familiar with the campsite and easily find their way back to the tent, cabin, or caravan. However, there may be delays along the way - because there are plenty of children to play with!
A wealth of experiences for water enthusiasts
Located just a few hundred meters from Limfjord, Ertebølle Strand Camping is perfectly situated for water enthusiasts or those who simply want to enjoy the view of the water. Ertebølle Strand boasts two bathing piers where you can relax and splash around on sunny summer days. If you're up for more water adventures, you can try diving/snorkeling, kitesurfing, and stand-up paddleboarding.
The beach also invites you for a pleasant walk, where you can go on a treasure hunt for sea urchins and fossils that are millions of years old. Don't forget to look up at the layers of soil on the slope, which date back to the Ice Age - here you can see ash layers from volcanoes that erupted more than 10,000 years ago.
Explore the beautiful, diverse nature
If you're into an active life in the great outdoors, you'll find plenty of opportunities at Ertebølle Strand Camping - whether you prefer a peaceful hike or a more exhilarating experience. The campsite is surrounded by fields, heathland, forest, and beach just waiting to be explored.
From the campsite, there are three different marked walking and running routes of 3, 6, and 10 kilometers, and in the nearby Uhrehøje Plantation, you can zoom through the landscape on one of Denmark's best mountain biking trails. If you prefer regular road cycling, there are also ample opportunities in the stunning coastal landscape - stop by the information center for inspiration for your day trip.
Plenty of activities within reach
Ertebølle Strand Camping is also perfectly located for excursions that add that extra special touch to your vacation. The area is particularly known for its historical roots with the world-famous kitchen midden and the "Ertebølle Culture." The fascinating history comes to life at the Stoneage Center, located just a few hundred meters from the campsite. Here, children and adults can listen to exciting stories about life in the Stone Age and try their hand at crafts, weapons, tribal boat sailing, and much more.
In Farsø, only 12 kilometers from the campsite, there are plenty of opportunities for shopping, dining, art, and museums - including the Johannes V. Jensen and Thit Jensen Museum, which celebrates the 150th birthday of Nobel laureate Johannes V. Jensen in 2023. And if you happen to experience a rainy day during your vacation in Ertebølle, it's only 8 kilometers to the Landal GreenParks holiday center in Rønbjerg, where you can indulge in the tropical water park, bowling center, and much more.
Destination Himmerland © 2023