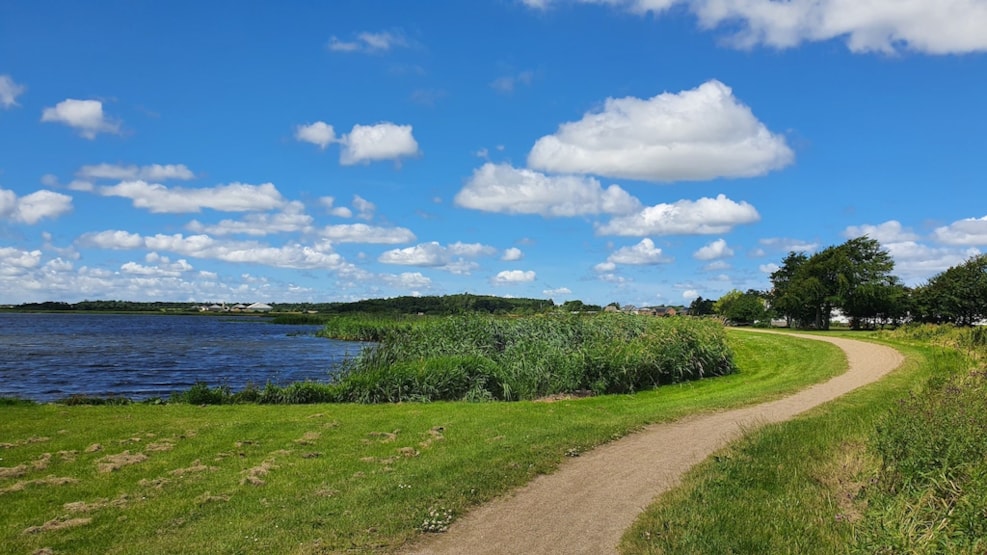 Ertebølle Tour - 60 km cycling tour
The Ertebølle Cycling Tour is a historically and culturally fascinating journey through thousands of years in western Himmerland. It is a journey from the Kimbrer town of Aars, along the coasts of Limfjord and the Himmerland Heath, and along the Hærvejen back to Aars.
The tour can start in Aars, Hornum, Gatten, or for example, at Rønbjerg. If you start the tour in the hometown of the artist Per Kirkeby, Aars, and cycle 'clockwise,' you will first pass through Farsø, the birthplace of Johannes V. Jensen, which has an interesting museum of the same name. The journey then takes you through Uhrehøj Plantation to Strandby on the west coast of Himmerland. From here, follow route 12 along the coast north to Ertebølle, which includes the Stone Age Center and a historically significant kitchen midden. Continue on to Trend, which invites you to take a dip in the fjord, before reaching the historical Vitskøl Monastery.
The next stop is Rønbjerg Harbor, where you have the opportunity for a detour to the idyllic Livø. Then, the journey heads east on route 38, passing north of the impressive reestablished Vilsted Lake. East of Vilsted, you'll hit Hærvejen, cycle route 35, and continue south along the Himmerland Heath on the finest disused railway track to the station town of Hornum, which boasts, among other things, a fine little railway museum. From there, continue on Hærvejen back to Aars.
The Ertebølle Tour is a relatively newly established route that connects several existing routes. Therefore, only parts of the routes will be marked.
Find a map of the cycling route here!
Destination Himmerland © 2023