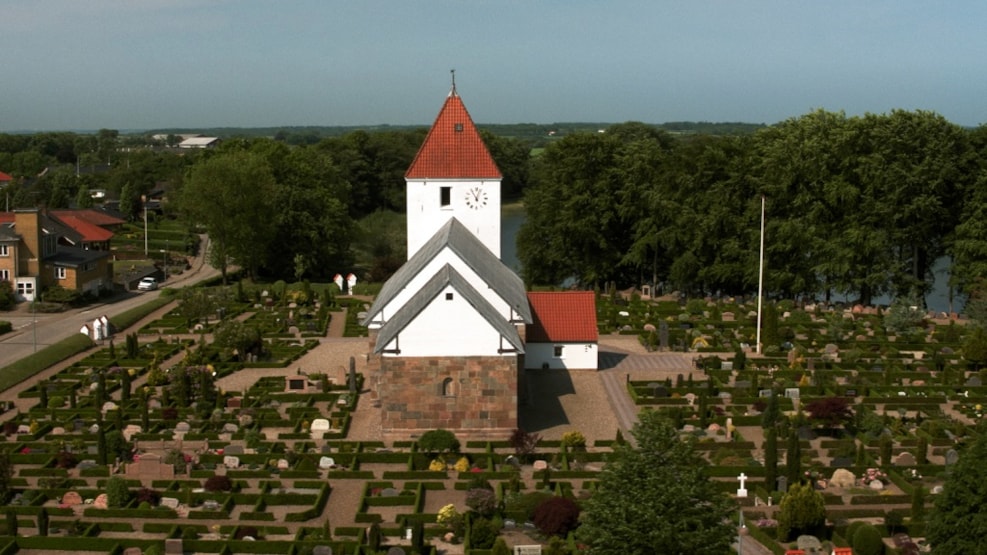 Farsø Church
In the central part of Farsø, southeast of the Farsø Lake area, you will find the beautiful surroundings of Farsø Church. The church was built around the year 1180 and during the Catholic period in the Middle Ages, it was dedicated to the Virgin Mary.
The first structure to be built was a Romanesque choir and nave, constructed with finely hewn granite blocks. Later, a west tower was added from the late Gothic period, built with monk stones, and even later, a porch north of the church.
Inside the church and the porch, several elements of historical significance can be found. In the main nave of the church, there are frescoes dating from around 1475-1560, uncovered in 1904. The frescoes depict scenes from the New Testament and various decorations. It is believed that only a small part of the frescoes has been uncovered, and it is assumed that there are many more frescoes yet to be revealed.
In the porch, there is a 180 cm high runestone depicting a Viking ship, likely Nagelfar, the death ship in the Ragnarok legend, along with the inscription "Toste and Asbjørn erected this stone for Tue brother." The runestone was discovered under the porch's tiled floor during restoration work in 1955. It is believed to date back to the period of 970-1020.
Farsø Church is certainly worth a cultural visit. There is, of course, also the opportunity to attend a church service, which can be found in the calendar on the church's website.
Destination Himmerland © 2023