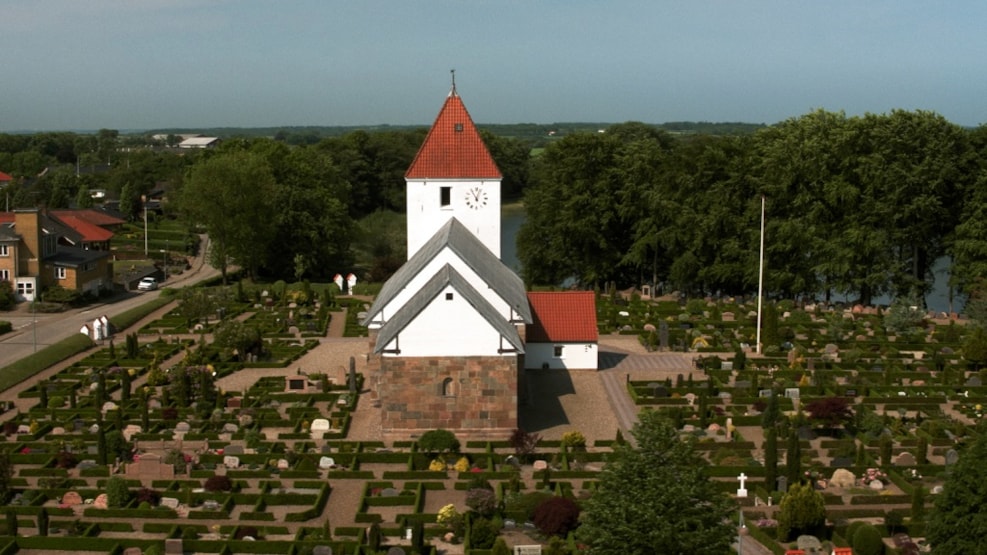 Farsø Church
In the middle of Farsø, in beautiful surroundings and south east of Farsø Søanlæg you'll find Farsø Church. 
The church was built around 1180 in the days of Catholicism in the Middle Ages and was dedicated to the Holy Mother. 
The first to be build was a Romanesque chancel and nave build in finely hewn granite blocks. Later a tower facing west, from the late Gothic period was built in monk stone, and even later a porch in the north part of the church.
The inside of the walled up southern door is rectangular and the outside rounded with a projecting cordon.
In 1904 murals from around 1550 were exposed on the chancel wall and the vault of the nave showing subjects from the Old and the New Testaments and inscriptions in Danish.

The extremely beautiful font with double lions and men's heads in high relief are worth seeing. The font was made by the master who carved the Norman style tympanum with double lions across the northern door.

In the porch can be seen a runic stone carrying the epitaph: "Toste ans Asbjørn erected this stone after Tue brother...". The stone also showa a picture of a ship.
The altarpice shows the Holy Lord painted by Mølgaard Andersen in 1943.
The church in Farsø is definitely worth a visit. It is possible to visit the church from sunrise to sunset, but if you would like the entire experience you can go to a service. You can find a time schedule for the services at the church on their website.