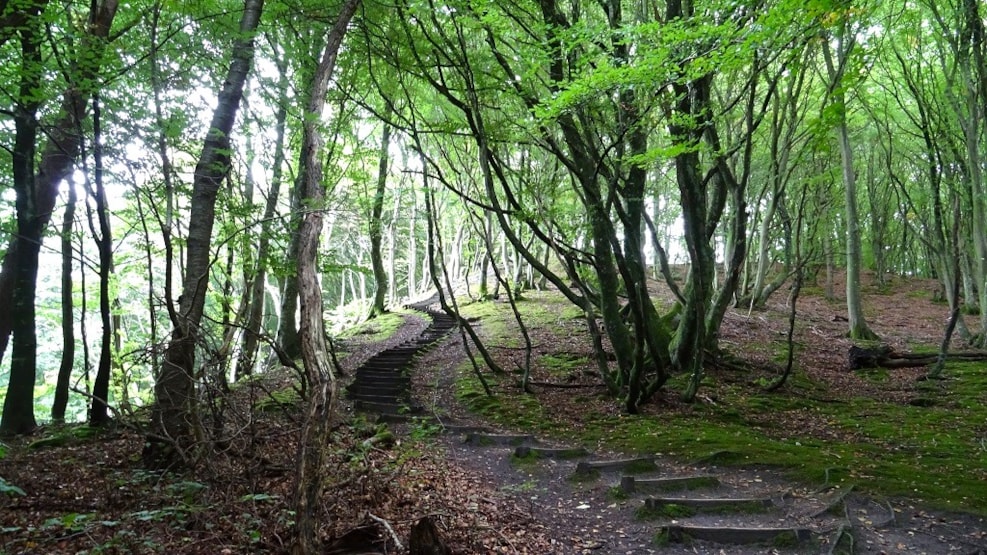 Frydensbjerg Route - Hike in Mariager (3 km)
Go for a nice walk in Mariager, on the Frydensbjerg-route, which is approx. 3 km long.
The Frydensbjerruten is a beautiful walk of approx. 40 min., which takes you past forest and coast as well as the old vintage railway between Mariager and Handest, which with its 17 km is Denmark's longest of its kind.
The route is named after "Frydensbjerghøjen", which is a burial mound that can be dated back to the Bronze Age (years 1,700-500 BC).
At the mound, a multitude of native species grow for the benefit of biodiversity. There are several benches along the route where you are welcome to take a short rest, this may even be preferable after a few steep sections in the hilly terrain.
Sit down and enjoy the beautiful nature - and if you are very quiet, you may be lucky to hear the drumming of the green woodpecker or the black woodpecker on the tree trunks.
The route is beautiful in both directions, and you pass several fine viewpoints along the way, including "Sukkertoppen" (the sugar-top), where you have a good view beyond Mariager Fjord.
The route goes through hilly terrain and is not wheelchair friendly.
NOTE: Be aware that vintage trains run on the tracks during the summer - as well as on several days the rest of the year. It is therefore very important that you look carefully before crossing the tracks.
The Frydensbjerruten is one of many beautiful routes in the area. You can see more routes here!
Parking
You can park in all public car parks, e.g. at Mariager Havn, v. Rosenhaven or at Egepladsen in the centre. There is no reference to parking in private driveways or the like.
Destination Himmerland © 2023