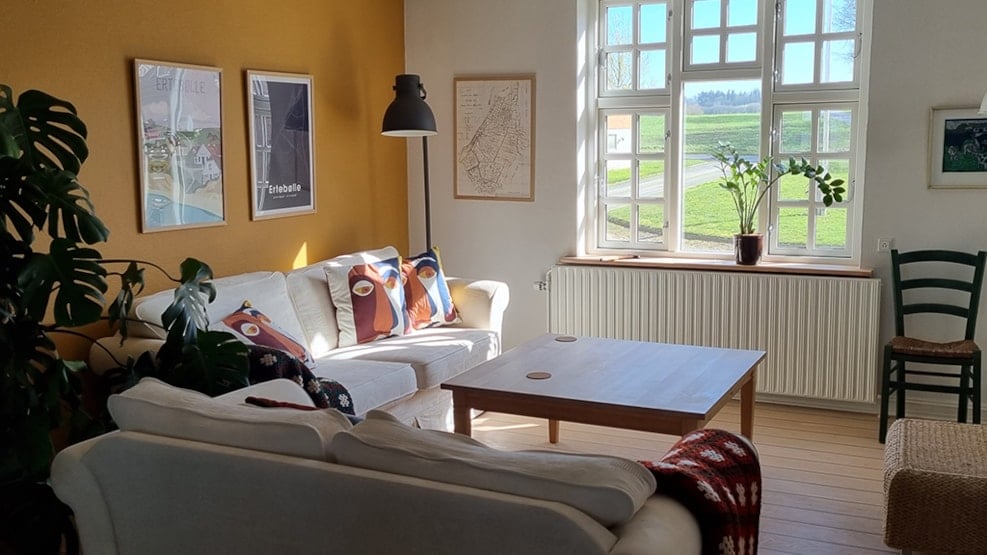 Gøttrupgaard Ferie and B&B
Stay at "Gøttrupgaard Ferier" and experience great nature close by as well as culture and fun activities in the area surrounding the vacation house.  
At "Gøttrupgaard Ferier" it is possible to either rent the entire house or just stay in a room and have access to parts of the house. It is possible to buy breakfast when staying at the place. 
Gøttrupgaard is an old proprietary farm which is owned by Anne-Louise and Torsten P. Wetche. They live at a farm close by called Hvanstrup. The farm Hvanstrup used to be, just like Gøttrupgaard, an old proprietary farm. Nowadays the farm is an organic farm with dairy cows. The farm is one of the suppliers of milk to the Danish dairy Thise Mejeri. 
If you want to make a visit to Hvanstrup and see how the cows are being milked, you can make an appointment with the owners Anne-Louise and Torsten. 
Back to Gøttrupgaard Ferie and B&B - the house is located in the middle of wonderful nature, has a big yard and a spectacular view of the meadows and fields. There are hiking routes nearby at the fields, forests and meadows as well as in Uhrehøje and "Skovbakkerne" on the peninsula of Louns. In Uhrehøje there are great MTB-trails as well. 
Trend Å is known for being a great fishing spot and about 10 km from Gøttrupgaard you will find the lovely beaches in Trend and Ertebølle - if you would like to go for a swim in Limfjorden. 
In the area you will find four golf courses in: Løgstør, Hvalpsund, Aars and Gatten. 
For further information - have a look 
here!
Or contact Anne-Louise Wetche
E-mail: annelouise@hvanstrup.dk
Mobile phone number: 0045 20 21 30 01