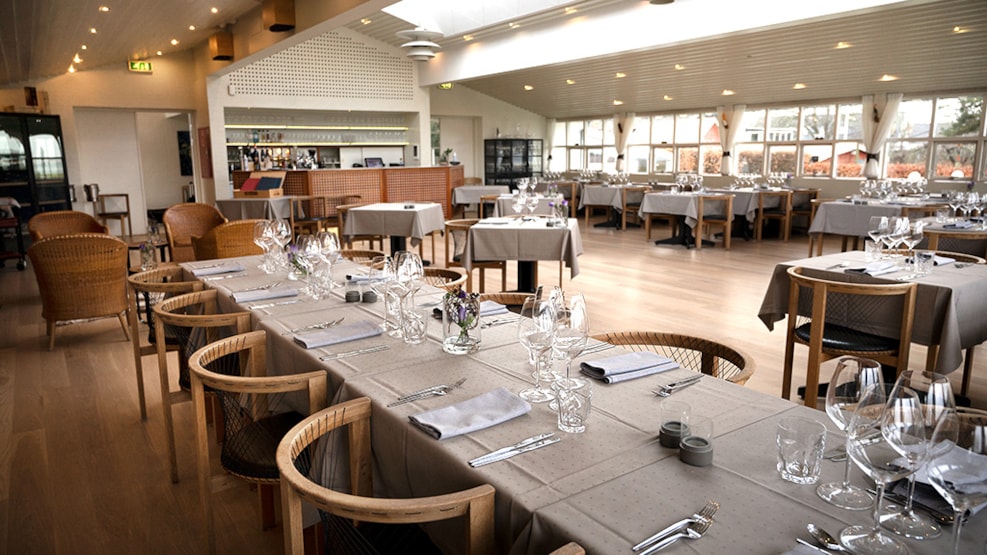 Hadsund Færgekro
Hadsund Færgekro is located on the south side of Hadsund, overlooking the beautiful Mariager Fjord and the bridge across the fjord. Here, you will enjoy carefully prepared food and an exquisite wine list.
The inn has an exciting menu where the classic and modern cuisine blend harmoniously. The restaurant serves lunch and dinner every day. The food can be enjoyed in the beautiful Panorama Restaurant or from the new terrace with a view of the fjord.
The inn's chef uses only fresh ingredients and receives fresh fish three times a week, including Fjordål from Mariager Fjord. The locally sourced meat is delivered daily. It is not just the food and the view that are the focal point at Færgekroen, but also a selection of good wines is important. Therefore, the inn has a charming wine cellar that the inn's sommelier has been good at filling. The wine list includes about 600 wines, primarily focusing on European wines, but overseas countries are also nicely represented.
The restaurant also hosts events and parties that can be tailored to the guests' needs and preferences. The head chef and sommelier are always available to agree on the perfect setup.
The inn has 10 newly renovated rooms and offers various types of stays. There is plenty to experience in beautiful Himmerland.
History
Færgekroen was built in 1823 by innkeeper and ferryman Peder Nielsen in Rostrup. Even at that time, there was lively traffic both by water and by land, especially when the Hadsund market started on May 1, 1836, the innkeeper had more than enough to do.
Peder Nielsen's son took over the inn and renovated it in 1856.
Hadsund Færgekro became the natural gathering place for locals and travelers. In the year 1900, you could see a large sign on the gable announcing that there was room for 50 horses in the stable so that travelers heading north could stable their horses. The inn included a farm, a grocery store, and a bakery. The inn burned down in 1969 but was immediately rebuilt.
In 2021, the management changed hands, and today Tobias Lorenzen (head chef), Ninna Friis, and Danny Friis (sommelier/restaurant manager) operate the inn. Their common goal is to create a place where guests are greeted on an equal footing in a relaxed environment with a cozy atmosphere, delicious food, and delightful wines. It is important for them to maintain the maritime inn style while also challenging and offering guests an exciting and well-prepared meal inspired by modern Nordic gastronomy.
Welcome to Hadsund Færgekro.
Destination Himmerland © 2023