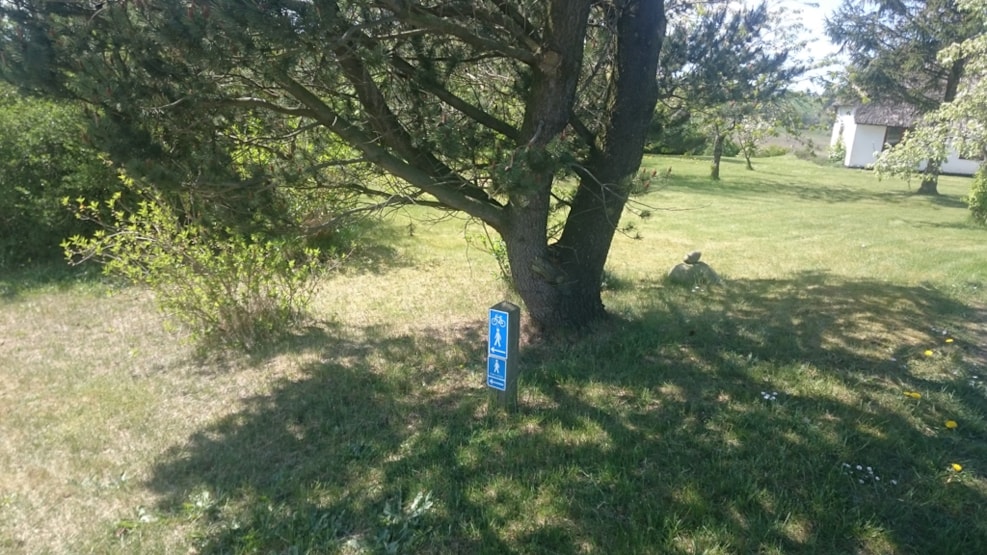 Hike: Aars to Svenstrup (approx. 30 km)
Take the 30 km route of Hærvejen between Aars and Svenstrup and experience picturesque areas, charming villages, and historical cultural treasures.
The Hærvejen hiking route passes south of Aalborg through beautiful natural areas with fields, trees, and small streams. Along the route, you'll also find charming small villages like Godthåb and Øster Hornum.
Drastrup Forest
In the southwestern outskirts of Aalborg lies Drastrup Forest, which is one of the largest groundwater-forming catchment areas for the city. To ensure groundwater quality, the area is planted with predominantly deciduous trees. Together with conifers, unplanted ravines, and blooming and fruit-bearing bushes, they form the basis for an exciting and varied trip with excellent opportunities to experience diverse wildlife and plant life.
Godthåb Hammerværk Museum
The Hærvejen route passes south of Aalborg through the small town of Godthåb, where you'll find Godthåb Hammerværk Museum. It is the only well-preserved of its kind in Denmark, provides a unique insight into early Danish industry and is periodically put into operation, allowing visitors to get up close to the old industrial facility. Godthåb Hammerværk primarily produced tools for crafts and agriculture. In the 1980s, Fiskars took over the business but left the old buildings to the museum.
Højris Mill
In the valley at Skivum Krat, you can find Højris Mill. The mill courtyard is centrally located in the area and has functioned as a water mill since the Middle Ages. It has been a central meeting point for the farmers in the area and operated as a mill until the beginning of the 20th century. The mill courtyard gradually became more dependent on forestry, and more oak groves were planted. This now provides a beautiful natural area where you can have a nature experience. Højris Mill is located right on the municipal border between Vesthimmerland Municipality and Rebild Municipality.
Skivum Church
In Skivum Church, which was built around 1100, you can see a fine figure of Mary with the child, originating from a Catholic altarpiece from around 1475. Skivum also offers a magnificent natural experience in Skivum Krat, which is one of Denmark's most significant erosion valleys. The valley is almost entirely protected and varies in width from a few hundred meters to up to 1.5 kilometers. The cliffs are untouched in many places, and it is said that there is still a part of the old Danish primeval forest in the valley.
Aars
Aars is a town centrally located in the heart of Himmerland, where both nature and city life have plenty to offer. The history of Aars is as old as it is exciting. The valiant Cimbri lived in the area about 2000 years ago, which is why the people of Himmerland are also known as Cimbri today. You can experience Aars' history at Vesthimmerlands Museum, which houses more than 12,000 years of archaeology and cultural history. Here you can, for example, see a replica of the Gundestrup Cauldron, which was found in Rævemosen near Borremose Fortress. Danish Contemporary Museum in Aars is run by dedicated volunteers and has one of the country's largest collections from everyday life from 1900 onwards. The town squares in Aars are a beautiful sight, adorned with stunning artworks created by international artists like Per Kirkeby, Kirsten Ortwed, and Poul Gernes. Aars Church was built between 1200 and 1250, as a typical granite church, and inside the church, you can see a gravestone in beautiful blue slate from 1651. Aars also offers an outdoor swimming pool and a planet path, where you have the opportunity to visualize the vastness of the solar system.
Destination Himmerland © 2023