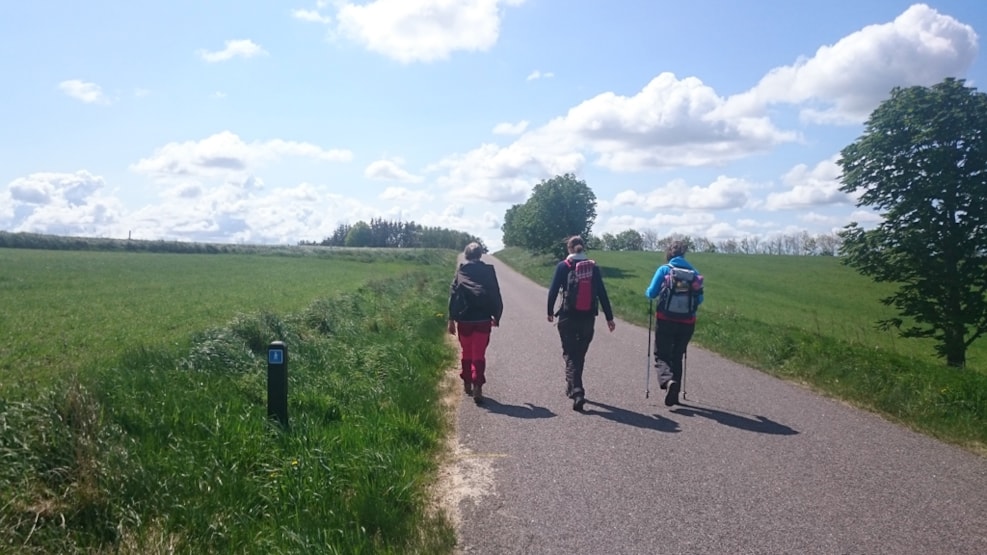 Hiking: Ancient Road from Løgstør - Møldrup
The Ancient Road from Løgstør to Aars follows the old railway road, which is now called Himmerlandsstien (The trail of Himmerland). When hiking from Løgstør to Aars you will pass through an area which is called de himmerlandske Heder (The Himmerland moor), which indicates how the whole area of Himmerland looked like in the old days, before the land was cultivated.
The 1300 hectares are the remains of the huge moor that until the 19th century covered large parts of the area between Løgstør, Nibe, Aars and Farsø and stretched as far as Svenstrup, Støvring and Rold Skov.

A hike across the moor reveals an impressive wealth of blooming plants and low bushes. The heath covers large areas and in the late summer it will cover the hills like a purple blanket.
One of the small towns you will pass through is Vindblæs. In Vindblæs you will find an old windmill. The old tail says that Vindblæs got its name, when a storm blow all the houses over. The town was then rebuilt around the church.

Hiking further to the south, you will hike through the Golf town of Gatten. Every golfer in Denmark knows this place – it is where you will find the best golfhotel in Denmark and it is here the European Golf Tournament, Made in Denmark, is held every year.
Aars 
When arriving in Aars, be sure to check out the sights. Aars is one of the oldest settlements in Denmark. The first settlers came to the area approx. 2000 years ago – and they were called Kimbrere/Cimbre. People from Himmerland is also called "Kimbrerne".
Explore the history of Aars at Vesthimmerlands Museum which contains more than 12.000 years of history. For instance, you can experience the famous Gundestrupkarret which was found close by at Rævemosen. 
In Aars you can also experience how the every day technology has developed the last 100 years at the Nutids Museum (The museum of the Present). It contains a great deal of affects from the every day life. 
Aars is also known for its high culture from the world famous artist Per Kirkeby, who has designed many of the buildings and sculptures in the city. 
Going further south you pass through the small village of Testrup where you will find excellent shelters and hostel. Testrup contains a rich history and in the old days Testrup was very popular because it had its own hospital, an abbey and a holy spring. You can still see the ruins of the hospital at the church. Testrup is about 3 km from the village of Aalestrup which also have a hostel (Aalestrup Vandrehjem).

Before leaving Aalestrup be sure to check out Danmarks Cykelmuseum (Bike Museum of Denmark) and Den Jydske Rosenpark (The park filled with roses).