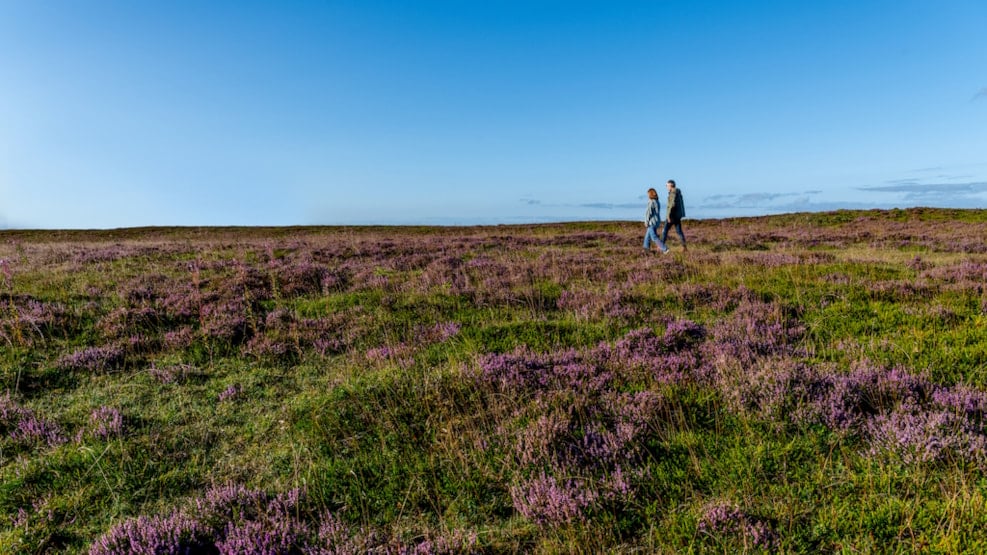 Hiking in The Himmerland Heathlands
Walk the entire 20 km hiking trail through the Himmerlandske Heaths, or tackle the route in stages. If you choose to do it in late summer, you'll be treated to the sight of the heaths covered in blooming heather, which is a beautiful sight.
In the heart of western Himmerland, Vindblæs, Oudrup, Ajstrup, and Lundby Heath are gradually merging into a natural unity without disruptive elements like houses, masts, and power lines. There is only heather, sheep, cattle, and scattered trees.
The 1300 hectares are a remnant of the vast heath that, until the 19th century, covered a large part of the region between Løgstør, Nibe, Farsø, and Aars, extending all the way towards Svenstrup, Støvring, and Rold Forest.
A walk across the heath reveals an impressive richness of flowering plants and low bushes. Heather covers vast areas and in late summer forms a reddish-purple carpet over the hills. Where the heather gives way to grasses and herbs, you'll see a riot of colors from flowers in the summer.
Destination Himmerland © 2023