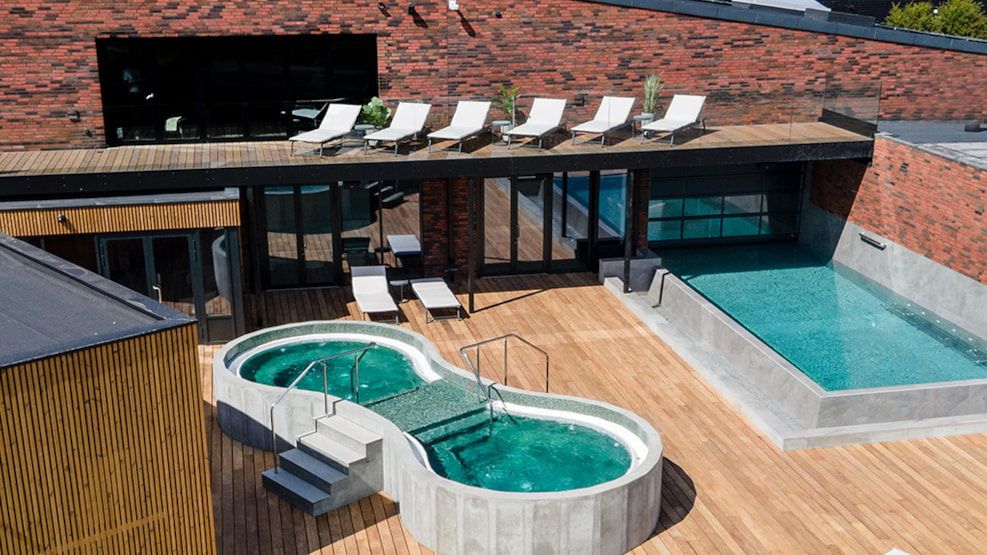 HimmerLand Spa
HimmerLand Spa is a beautiful world full of comfort and relaxation. The Spa went through a major renovation in spring 2019, which improved the lovely facilities and now is providing the setting for a unique day at the spa or a luxurious spa stay.
Relaxation spa days
At the reception you will be handed a rope, a towel, and soft slippers, so you are ready for a visit to our nice and luxurious spa. On the first floor, you will find four big well-equipped treatment rooms, VIP-facilities for changing, and a wellness lounge with a fantastic view of Sjørup lake.
The big spa area is placed on the ground floor and is the foundation for your spa experience at HimmerLand Spa. The area is decorated in pure and natural tones with characteristic mosaic tiles, which invites you to relax and enjoy the quietness. In addition to this, there is plenty of room to find a free space and take a break from your everyday life, by enjoying one of the different baths or saunas. Besides this, it is also possible to be pampered with self-treatment products, which among other things can be used in steam baths.
In the spa's bar, you will find delicious refreshments such as water, juice, and fresh fruit. Besides this, you can also buy refreshments like a light lunch, which you are welcome to enjoy in the spa area.
SPA treatments
HimmerLand Spa offers a wide selection of lovely spa treatments, which are adjusted to fit every taste concerning the budget and time frame. The treatments include different kinds of massages, face treatments, care of hands and feet, and are being carried out with exclusive spa products. These products can also be tested and bought in the lounge area on the first floor. In addition to this, the spa is also offering supplementary benefits like doctorfish or booking a romantic and private spa room.
The staff at HimmerLand Spa is always willing to assist you and giving you advice, so you will get the most out of your experience at the Spa and during your treatments.
HimmerLand Spa was nominated at the Danish Beauty Awards in 2019 and 2020 in the category "The Spa of the year".
Find more information about the visiting hours and prices,  here.