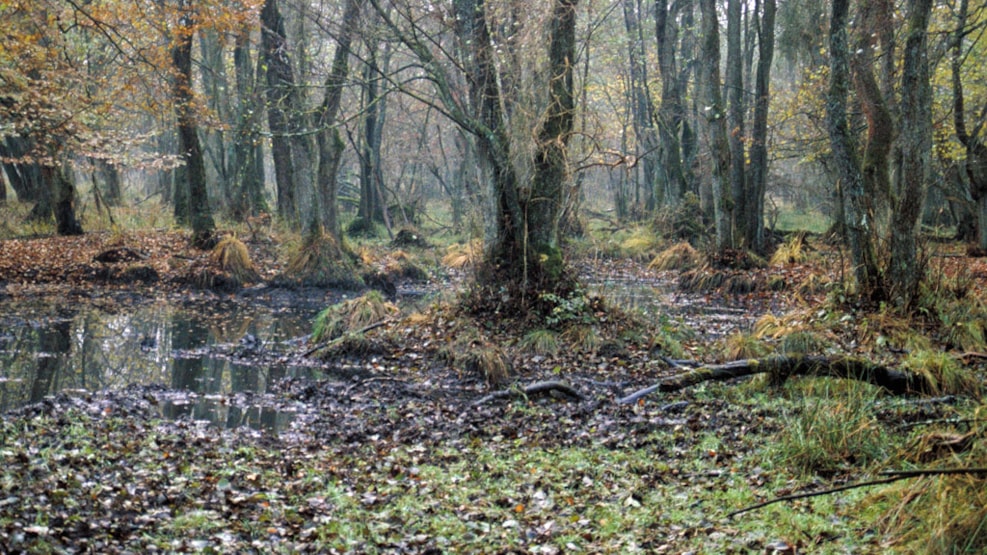 Højris Mølle
Hidden away in the river valley of Sønderup Ådal, you will find the mill called Højris Mølle, which is part of Skivum Nørrekrat. In this beautiful nature, you can find a mark of Jutland: an oak thicket.
The mill farm is placed centrally in the area, and has from the Middle Ages to early 1900 served as a watermill. It has also been a central meeting place for the local farmers. The mill farm slowly became more dependent on forestry, which begat the oak thickets.
A variety of nature
Højris Mølle contains some of the most varied nature sights in Denmark, both with oak thickets and the creek of Sønderup Å, which cuts through the area. The oak forest, especially, is unusual, because it is planted as an attempt to recreate the old, Danish forest, where livestock roamed among the trees.
Between the oaks, there is an abundance of other plants, such as rowan trees and blueberry bushes. In the more open areas of the meadows by the creek, you can find juniper and heather. On the website or in their folder, you can find a route that will take you through the greatest nature experiences.
Access and accommodation
The entire area is accessible both day and night for those on foot. Biking is only allowed on the gravel paths in the area. You can camp out within the tent site at Højris Mølle, where you can also light bonfires. Be advised that all dogs must be leashed, and fishing in the creek is not allowed.
Destination Himmerland © 2023