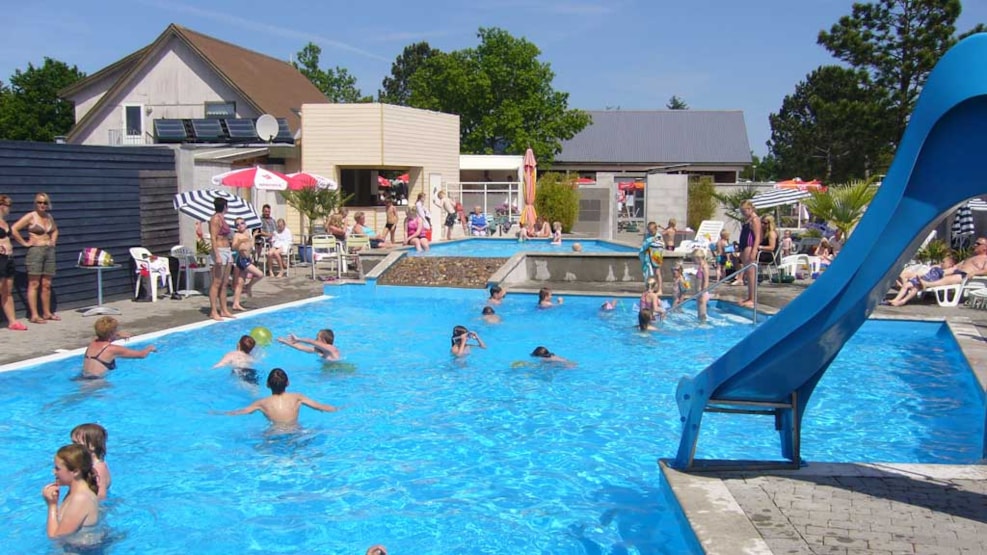 Hvalpsund Family Camping
Hvalpsund Family Camping is located in the maritime harbor town of Hvalpsund, situated at the tip of the Louns Peninsula. Here, peace and tranquility reign, with plenty of activities for children and adults. A fantastic vacation is guaranteed for the whole family.
Hvalpsund Family Camping is a great choice for a good holiday for the whole family. The site is beautifully located by the waterfront of Limfjord. The child-friendly beach invites water activities, play, and crab fishing. Limfjord is perfect for kayaking and paddleboarding. On windy days, Limfjord is suitable for kiteboarding and windsurfing.
There is a cozy pool area with a children's pool and a large pool with a slide and bubble zone. The site also includes a large playground with swings, play tower, trampoline, bouncing pillows, and a moon car track. There are activities for both children and adults, such as music events, group singing, campfire bread, wine tasting, guided hikes, and pool disco.
If you fancy cold refreshments and easy dinner, they can be purchased at the café. They also have a small shop with ice cream, sweets, and daily necessities. In addition, the site has service buildings with kitchens, toilets, family rooms, changing rooms, and laundry facilities.
The surrounding area contains everything needed for a successful holiday, where there is time for relaxation and fun activities. You will find well-marked cycling and hiking trails, Put & Take lakes, Hvalpsund Golf Club, the cozy marina, and Hvalpsund Ferry Port, from where you can sail with the ferry "Mary" to Sundsøre.
The campsite has a really nice atmosphere and a cozy holiday vibe. If you, like many others, are attracted to the good atmosphere and beautiful nature, visit Hvalpsund Family Camping.
Café Himmelblå
At Hvalpsund Family Camping, you'll find Café Himmelblå. Here you have the opportunity to buy a delicious burger with crispy seasoned fries. They focus on using local suppliers, including local quality meat from Himmerlandskød and Det lille Slagteri.
The café offers both hot and cold drinks, including Hancock draft beer and sodas, soft drinks from Louns, Peter Larsen coffee, wine, and drinks.
If the temperature gets too high, they also sell delicious Italian ice cream from Voel Ismejeri, and their Frisko freezer is always stocked.
Autocamper
At Hvalpsund Family Camping, you have the opportunity to park your autocamper on all our sites. We particularly recommend our first-row viewing spots with a fantastic view of the Limfjord. The sites are easy to drive to, and on a sunny day, you will see the most beautiful sunset.
It is easy to fill the camper with water and get rid of gray water.
Self-service is possible all year round if you book online.
Rental of glass kayaks and paddleboards
At Hvalpsund Family Camping, you have the opportunity to rent both glass kayaks and paddleboards. Life jackets and paddles are included in the rental.
Glass kayaks: It is a special experience to go out on Limfjord in a glass kayak. It resembles a canoe and is completely transparent. This means that you have the opportunity to see life beneath the water surface - it's a must-try!
Paddleboards: Whether you have good balance or want to test it, here you can rent paddleboards and have fun and enjoyable holiday experiences.