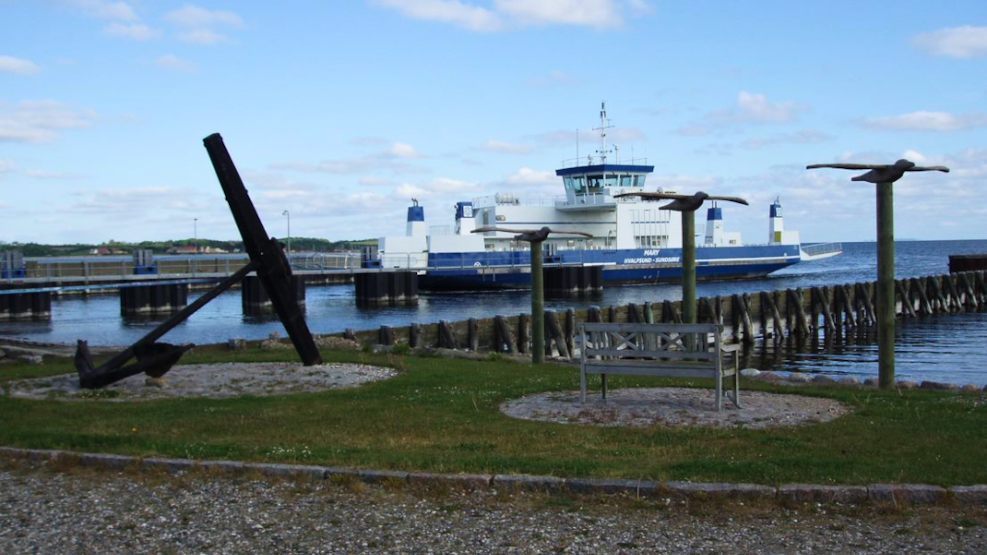 Hvalpsund Ferry port
Enjoy the evening atmosphere at anchor and watch the ferry sail between Salling and Hvalpsund, while seals, seagulls, and cormorants are on the hunt for food.
If you're heading to Hvalpsund, take a lunch break at the ferry port. Here, the Hvalpsund-Sundsøre ferry docks, connecting Vesthimmerland with Salling. The ferry named "Mary" sails the 10-minute route between Hvalpsund and Sundsøre every day. If you take the trip, you might be lucky enough to see seals basking on the spit of land.
A break at the harbor
If you stay at the ferry port, you can let your children loose on the nearby playground, where they can swing, slide, and climb to their hearts' content. You can also enjoy your packed lunches with a view of the harbor and the idyllic houses around.
At the harbor square, you can visit the information hut, where you can find inspiration and brochures for exciting experiences in the local area. If you're interested in experiencing Hvalpsund from the water or cycling around Himmerland, you can rent bicycles, e-bikes, kayaks, and SUP boards at the information hut.
Historical accommodation
If you need accommodation in Hvalpsund, the historic Hvalpsund Færgekro is just around the corner. Here, you'll have the most beautiful view of the Limfjord, along with exceptional accommodations and food. Book one of their inn stays or have lunch at their restaurant, where they serve everything from Wiener Schnitzel to mussels. You won't regret it!
A dip in the sea
About 10 minutes from the ferry port lies Hvalpsund Beach. It's a wide and lovely sandy beach, perfect for families with children. Here, you can jump into the blue waves from the bathing jetty or the diving tower for those seeking more adrenaline.
Shopping opportunities
If you need to buy breakfast, lunch, or something entirely different, Dagli' Brugsen is only a 10-15 minute walk away.
Activities in nature
Near Hvalpsund, there are numerous scenic hiking trails. One of them is the Ertebølleruten (No. 36), which stretches from Hvalpsund to Aggersund. The route covers 49 kilometers and takes you through a varied landscape of cliffs, forests, and interesting sights. Don't miss a visit to Myrhøj and Uhrehøj Plantage (No. 118), which offer a total of 4 marked hiking trails of varying lengths. These plantations are known for their burial mounds, dating back to 4000 BC.
Destination Himmerland © 2023