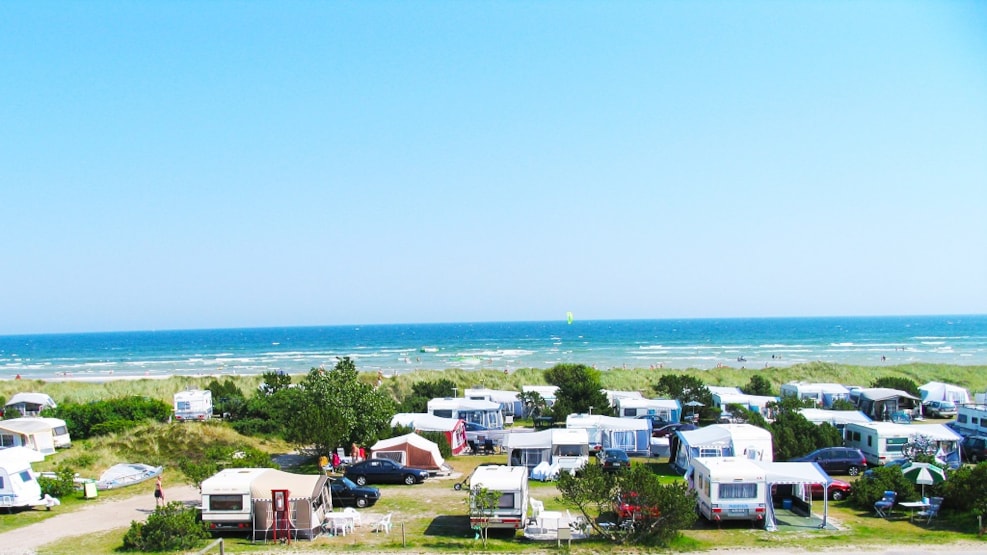 Kattegat Strand Camping
Kattegat Strand Camping is a five-star campsite with peace and tranquility for the whole family and room for a vacation you won't forget.
Are you also longing for a family vacation in Himmerland, close to nature, far away from packed lunches, rush hour, and meetings? Look no further!
Welcome to Kattegat Strand Camping, a holiday paradise by the water, with a wealth of experiences for children and adults.
Just 2 km north of the holiday town Øster Hurup lies Kattegat Strand Camping, a modern oasis close to the beach and forest. Here, the beauty of nature takes center stage, and there is ample space to spend quality time with your family, away from the disruptions of everyday life.
The campsite is surrounded by the blue sea and green forests, so whether your vacation is filled with adventures or relaxation, you'll find it all right here!
Kattegat Strand Camping is owned by Birthe & Jørn, who purchased the place back in 2000. They are experienced campers themselves and had dreamt for many years of owning their own campsite in the heart of nature. For over 20 years, they have called Kattegat Strand Camping their home, and when you step into the reception, you can immediately feel their warmth and passion for the place.
Accommodation at Kattegat Strand Camping
Whether you're an experienced camper or a beginner, you'll immediately feel at home at Kattegat Strand Camping. For those who love the authentic camping experience, they offer tent pitches where you can set up your tent amidst the beautiful nature. If you dream of waking up to the sound of the sea waves, you can book a spot in the first row by the beach. Read more about the pitches here.
If you're not quite ready to go all-in on camping life but still want to enjoy the atmosphere and nature, they also offer camper van rentals. You can explore the surrounding nature while still having the comfort. See more about their camper vans here.
For those seeking the perfect combination of camping atmosphere and comfort, Kattegat Strand Camping offers a unique experience. Their family cabins are designed for quality time with your family. The cabins are 32 m2 in size, accommodating 6 people, and offer everything you need during your stay. After a day of adventure, you can relax on the cabin's terrace and enjoy the evening sun. Read more about the cabins here.
If you're fascinated by the concept of glamping, they also offer accommodation in one of their 15 tipis. Each tipi is furnished with 5 comfortable mattresses, soft blankets, and interior decor that creates a relaxed atmosphere. Read more about glamping here.
Activities for all ages
Every week during the summer vacation, there are activities for both children and adults at Kattegat Strand Camping. Making campfire bread in the campfire hut, soccer school, and pool parties are just a small selection of the many different activities available.
After adventures in the surrounding nature, it's a perfect time to take a refreshing dip in the heated swimming pool. After the swim, you can enjoy the sun on one of their sun loungers while indulging in a good book.
For some excitement, CampJump is the perfect choice. It's an outdoor jumping paradise with several trampolines and a large jumping pillow. It's a unique combination of nature and entertainment that will create laughter and happy days for the whole family.
Animal Park
Explore the animal park at Kattegat Strand Camping and get up close to the animals. The animal park is home to alpacas, goats, rheas, and kangaroos.
What's a camping vacation without a round of miniature golf?
At Kattegat Strand Camping, you can find the unbeatable miniature golf champion of the family. The course is inspired by Mariagerfjord Golf Course and with 12 challenging holes, a couple of hours will quickly pass with fun and competition.
Horseback Riding
Kattegat Strand Camping has an agreement with Sport Rideklubben Himmerland (an equestrian center 10 km from the campsite), and as a guest at the campsite, you have the opportunity to book horseback rides and receive lessons at the equestrian center, regardless of age and skill level. You can find more information about the rides and prices here.
Be together in nature
Take your family on a hike to the nearby Tofte Forest and experience the tranquility of the woods. When hunger strikes, you can set up camp by Tofte Lake, where you can enjoy your packed lunch with a breathtaking view.
Tofte Forest is part of Lille Vildmose, Denmark's largest wilderness. The wilderness is home to an impressive wildlife, and here you have the chance to see elk, wild boars, red deer, European bison, and cranes.
Not far away is Lille Vildmose Centre itself, which is worth a visit for both children and the young at heart. Here, you can try the eagle simulator, where you sit on the back of an eagle and fly through Lille Vildmose. Outdoors, you can watch the wild boars being fed or take a ride on the peat train.
From Kattegat Strand Camping, you can also take a trip to Øster Hurup. Here, you can enjoy the beautiful harbor, have an ice cream at CIAO, or join in crab-catching.
Note: There's a chance you won't want to leave Kattegat Strand Camping again, but fear not. You can already book your vacation for next summer and start counting the days until you visit Birthe and Jørn in their picturesque paradise.
Destination Himmerland © 2023