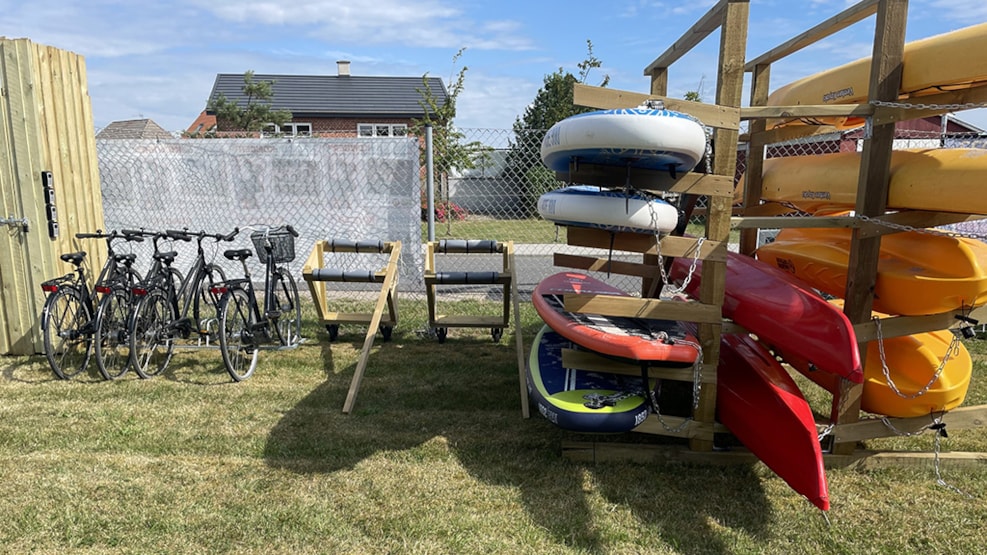 Kayak and SUP rental in Øster Hurup
In Øster Hurup, there are plenty of experiences and opportunities to be active in nature. Here, you can rent bicycles, SUP boards, and kayaks if you don't happen to have equipment with you on your vacation.
In Øster Hurup, it is possible to rent bicycles, SUP boards, kayaks, and sit-on-top kayaks during the summer season at the Aalborg Outdoors self-service station located at Øster Hurup Tourist Information.
You can book the number of bicycles, SUP boards, and/or kayaks you need through the link below. Afterward, you will receive a confirmation, a code for the equipment you need, and instructions. Then, simply pick up the board and have fun.
You can find the link to the self-service station in Øster Hurup here!
SUP boards and kayaks are only rented out when the weather is suitable for sailing, which means not too much offshore wind.
If you wish to rent more bicycles, kayaks, or SUP boards, Aalborg Outdoor can assist you. They can deliver and pick up the equipment right where you need it. Contact Aalborg Outdoor at +45 50 57 51 15.
Destination Himmerland © 2023