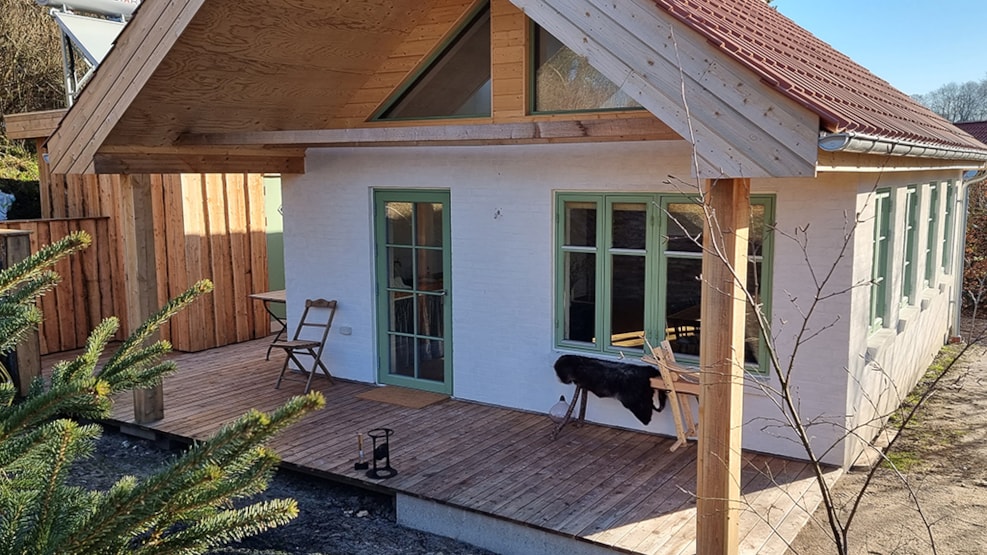 Koppes Mølle B&B
In the small valley between Halkær Bredning and The Moors of Himmerland (De Himmerlandske Heder) is a nice Bed and Breakfast called Koppes Mølle B&B. 
Koppes Mølle B&B is a sustainable B&B with atmosphere, charm and is a place for peace and quiet, in a crative and natural environment. 
For those of you that lovess the nature, loves to angle, are bird watchers, cyclists and/or hiking enthusiasts - this is the place for you.
3 new accommodation units in 2022: 
One of the new accommodation units is "The green Orangery", where you can live close to the nature. 
The other two, are luxery shelters named "Ådalshytte 1" and "Ådalshytte 2" from where you can wake up to the sun rising beautilfully above the river valley. 
Close to nature 
Koppes Mølle B&B is surrounded by nature and is located close to a various of hiking- and biking trails like The Ancient Road, Margueritruten and many more. 
The area surrounded the B&B is also a great place for golf enthusiasts. 


Sustainablity at Koppes Mølle B&B 
Electric cars are very welcome - you can charge your car at the place. 
The garden and nature surrounded the B&B is mostly organic, the bed sheets are air-dried, the bread for breakfast is home-baked and organic - and the electricity is produced by a photovoltaic system (sun power).


The B&B also offers: 
Breakfast in "Glashuset" where you also have the opportunity to have a good time with puzzels, boards games etc. 
The garden is open for all guests - here you'll find a barbeque area. 

Parking for your own bicycle, as well as the opportunity for renting af bike. 
On request it is possible to bring your dog.
Facilities and tours: 
Capacity: 7 beds in 3 traditional rooms
Capacity: 2 - 4 beds in "The Green Orangery" (Det Grønne Orangeri)
Capacity: 2 - 4 beds in  Ådalshytte 1 and Ådalshytte 2
Open garden
Order a cutting workshop
Order a guided hiking tour 
Order a beaver safari tour
Destination Himmerland © 2023