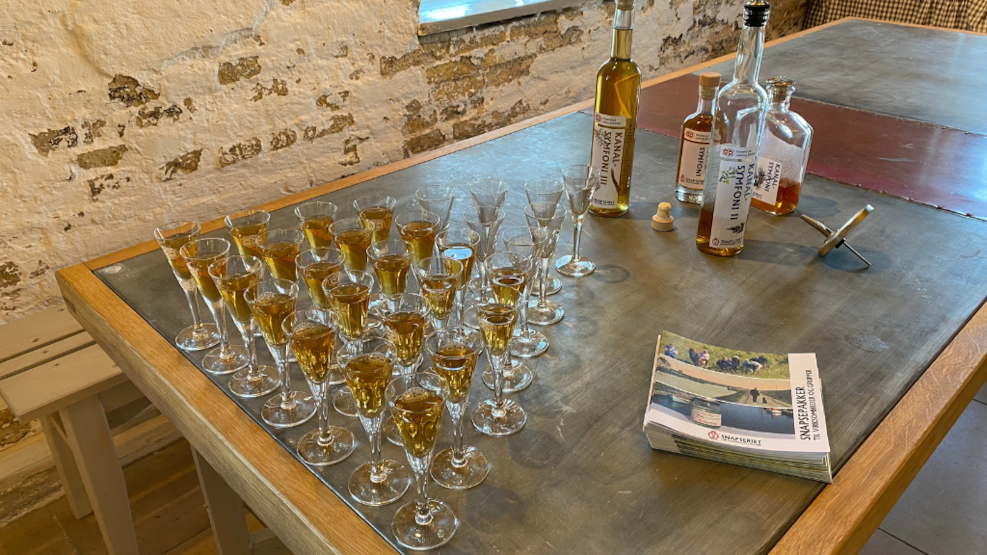 The Limfjord Museum's Aquavit Distillery
The Limfjord Museum's Aquavit Brewery is housed in the back house and consists of a team of dedicated volunteers who live and breathe for aquavit.
Step inside as the distillery opens the doors to their aquavit-universe in the Baghuset at Limfjordsmuseet and get a unique insight into how aquavit is made.
Their mission from the beginning has been to combine culture, local food, and flavored aquavit. Therefore, all of their aquavit are based on the unique nature surrounding Limfjorden and flavored with berries, flowers, and herbs collected from the slopes of Frederik VII's Canal.
Bites and aquavit
They are open in weeks 26, 27, 28, 29, 30, and 31. And if you already have admission to Limfjordsmuseet or have sailed with Grevinde Danner, the bewery invites you to enjoy a bite and aquavit. You will be offered a taste of one of their aquavits, along with a small bite of food made from local ingredients that accentuate the different flavor nuances of the aquavit.
The distillery constantly experiments with new flavors and has developed a range of signature aquavits, which are served at various events and during bites and aquavit. From this, "Snapsesymfonierne" (Aquavit Symphonies) have emerged, where they mix different signature aquavits to create more complex flavor combinations. So come and visit the distillery during your visit to Limfjordsmuseet and have a taste experience you won't forget.
If you have paid admission to Limfjordsmuseet, it is also free to take a trip in Limfjordsmuseet's rowboats. Here, you can take a boat trip on Frederik VII's Canal and enjoy the view.
Groups
If you are a group that would like a unique insight into the schnapps universe, they offers various packages, such as schnapps and bites on the canal or "Sank til Snaps" (Forage for Schnapps), where you can join in on a picking tour. Contact Limfjordsmuseet for more information. Prices for group tours can be found here.
Destination Himmerland © 2023