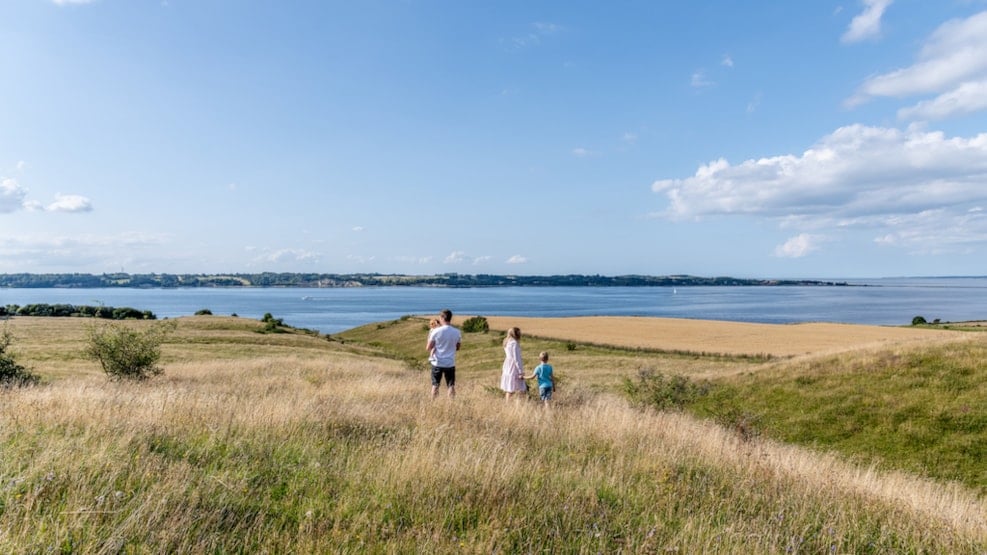 Louns peninsula
Located in the preserved part of the peninsula Louns with a view of the Limfiord. You can easily watch whether or not the ferry to Salling is on-time.
At Louns, the entire nature of Vesthimmerland is gathered in one place. High hills, deep valleys, forests, lakes, heathland, and beaches, among others. The hilly landscape was formed by glacial deposits, where the ice left behind a landscape with large, smooth hills, and subsequent meltwater and rainwater have eroded the landscape, forming gorges down towards the coast.
In several places, there are small forests with oak groves that appear old and gnarled like a real enchanted forest. The outermost part of Louns is now protected, and along marked footpaths, you can descend to the flat beach where you often find a spot sheltered from the winds from Limfjorden. Here, you can take a dip in the clean bathing water, enjoy the magnificent view, and savor the tranquility, while swallows busy themselves flying in and out of the holes in the cliff.
There is also a nature campsite at Lovns where you have the opportunity for free overnight stays in a bivouac.
Shelter spots: Three
NO room for tents
Toilet: Yes
Bar-b-que sites: Yes
Water: No
Access from the water: No
Can dogs on a leach be brought along: Yes
Can you bring horses: No
Possible to shower: No

Accessibility:
Strollers: No
Wheelchairs: No
Wheelchair with assistant: No
People with walking disabilities: No
People with lowered sight: No
Toilet for the disabled: No

The site is located 4 km. from Hvalpsund near cycling route 29 – there are signs posted from the cycling route.
There are four marked hiking trails from the site. The trails are very different – from a small exciting forest through the dense juniper berry scrubs to the outskirts where many animals graze.
There are tables and benches on the site so you do not have to worry about eating in the rain.
Destination Himmerland © 2023