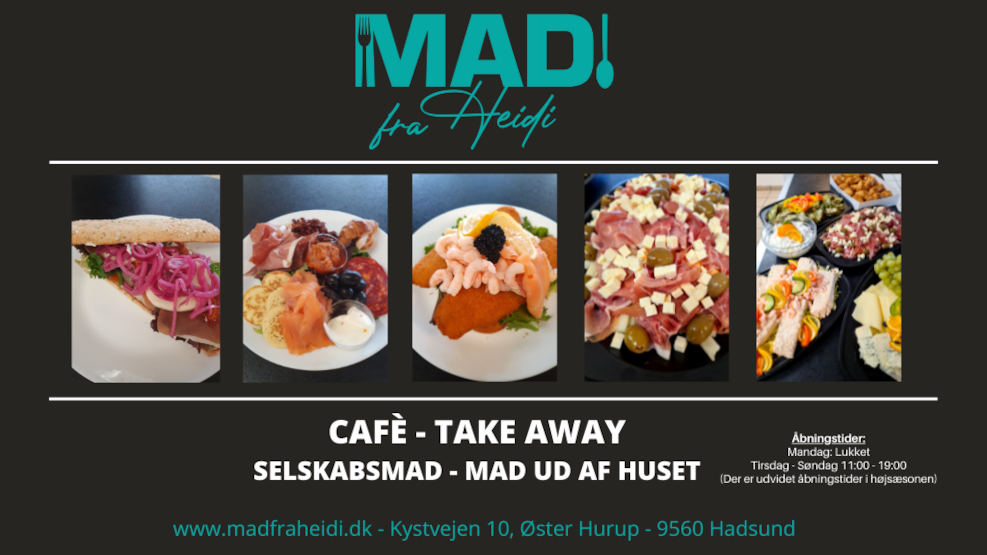 Mad fra Heidi - Øster Hurup
"Mad fra Heidi" (Food from Heidi) is a café/take-away place in the northern part of Øster Hurup. 
Here you can buy delicious food like homemade burgers, crispy fries, homemade pasta salads and the special Heidis veggie-burger - and much more. 
You can eat at the place or buy some take away to enjoy at the beach or take it home to your vacation house or back to the camping site. 
The address for "Mad fra Heidi" is Kystvejen 10 in Øster Hurup, maybe you know the place - it is where the old Go On gas station used to be. 
Local goods 
"Mad fra Heidi" is more than just a place for eating. The shop has several local goods like crispbread from
Grangården
, wine and brandy from the local winery at Als Odde
OddeKystVineri
 as well as beer from Hadsund Bryghus (Hadsund Brewery)...and much more. 
Having a party at your vacation house? 
Whether your inviting the family or gathering your friends, "Mad fra Heidi" offers delicious meals made for big parties.