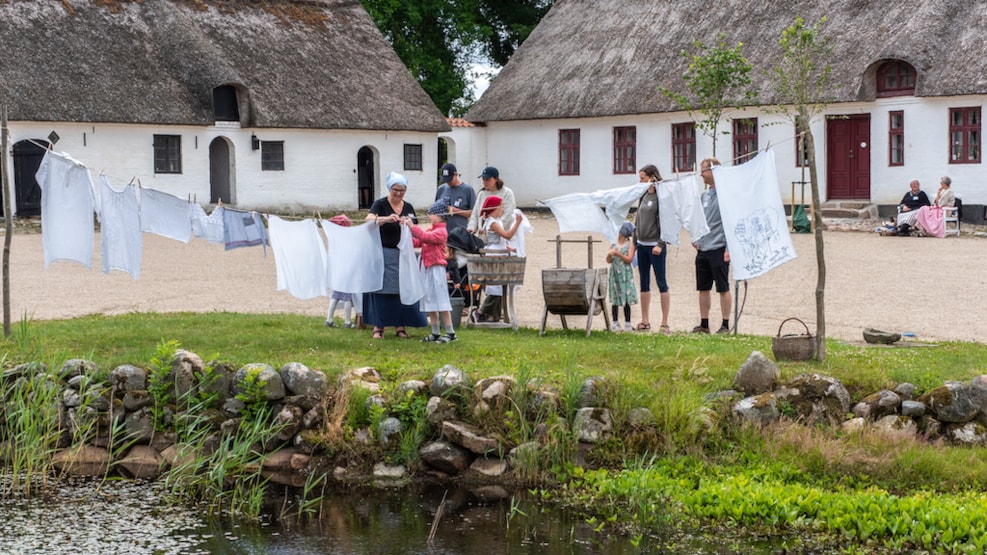 The Manor House Hessel
Embark on a fascinating time travel journey 150 years back in time.
At Hessel Manor, you are invited to experience life in the countryside "as it once was." Hessel is Denmark's last four-winged and fully thatched manor house, with roots dating back to the 14th century.
Today, the historic buildings house a living museum where you can experience an authentic farm environment from the late 19th century. During your tour, you can feel the whispers of history as you explore the old buildings inside and out – for example, the main house is furnished with original furniture from the late 19th century.
Throughout the estate, volunteers bring old crafts and traditions to life around you – and best of all, you can become an active part of history yourself. Here, you can take a ride in a horse-drawn carriage, help wash clothes with a washboard, assist in the kitchen, forge in the blacksmith's shop, turn wooden handles, make ropes – and if you succeed in the last two activities, you can play with the skipping rope you made yourself!
Throughout the summer, there are various cozy activities at the manor house – from Horse Day and Great Cake Day to Outdoor Manor House Concerts, Lunch with Aquavit (for the adults!), and Harvest Day. It's a good idea to check the calendar before planning your visit.
A visit to Hessel is a cozy, fun, and educational experience for the whole family, and perhaps children and teenagers will be a little grateful afterward for the electric stove and, above all, the washing machine.
If you're not completely satisfied with experiences after your visit to Hessel Manor, we recommend ending the day with a walk in the beautiful nature of Louns Peninsula, where the manor is located. There are no fewer than 20 km of hiking trails through the peninsula's unique nature, which offers both coastal cliffs and gorges with oak groves reminiscent of a genuine enchanted forest.