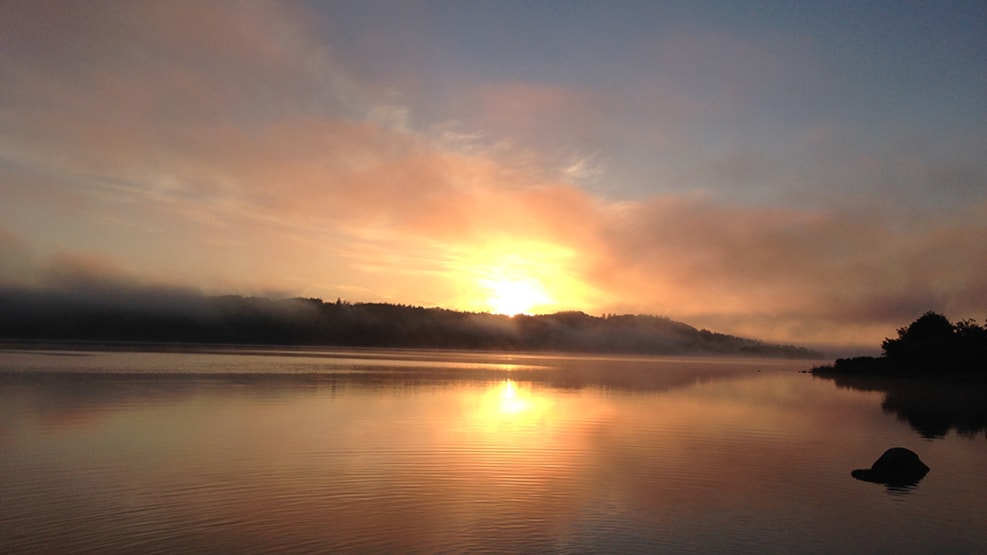 Mariager Fjord
The nature around Mariager Fjord
Mariager Fjord is known as the most beautiful fjord in Denmark. The fjord also contains a large number of well-nourished trout, which makes fishing in Mariager Fjord a unique experience for anglers. But before we throw line in the water, let's focus on landscape and history.
Mariager Fjord flows into Kattegat, north of Djursland. The fjord winds itself through a flat landscape with dikes, fields and forests. The inner part of the fjord is surrounded by idyllic juniper, steep and high hills, slopes, forests and small fishing villages.
Around the outer part of the fjord, on the south side, sits Overgård Manor's majestic farmland surrounded by dikes. This agricultural landscape is then replaced by the salt meadows in Ajstrup Bugt, which together with the Ajstrup Krat forest, is a preserved area with unspoilt nature and untouched wilderness. Crouching patiently behind bushes visitors can marvel at the beauty and diversity of wildlife and wildflowers.
From Ajstrup Bugt you can glimpse Havnø Manor and the characteristic windmill and the pier to the west. The pier, the fjord's narrowest point, was once the ferry port until it was replaced by the Hadsund Bridge. This particular stretch of the fjord is characterized by large expanses of water, but shallow depth means water exchange occurs along the river channel, which flows past Hadsund into the deep inner fjord. 
Here the fjord flows into a large boat-shaped basin, which reaches depths of 30 meters. The landscape surrounding the fjord changes dramatically with the hills and forests around the fjord rising 100 meters above sea-level. The varied nature consists of large forest areas on the south side, where old trees often have roots down at the water's edge.
The north side landscape is dominated by grazed hills with juniper bushes. Streams and lakes contribute around 160 billion liters of freshwater to the fjord each year.
Experiences around Mariager Fjord
The area around Mariager Fjord has a lot to offer, if you want to explore the beautiful nature. Are you into hiking, can we recommend taking the PANORAMA-trail around Bramslev Bakker, which is Denmark's first certified hiking route. The hiking route is a part of a preserved area and is one of Denmark's most beautiful routes, as you are able to enjoy the beautiful landscape and the view of Mariager Fjord from benches along the way. 
Are you more into speed, the Fjord also has a cycling route called Route 32 – the Mariager Fjord route, which is a 60 kilometre long biking route close to the beautiful fjord.
If you are having your own boat, Mariager Fjord is also a great place for you to visit. Along the fjord, you will be able to find small yachting harbours like Kongsdal Yachting Harbour and Mariager Yachting Harbour. 
Do you want to know more about maritime experiences around Mariager Fjord? Take a look here!