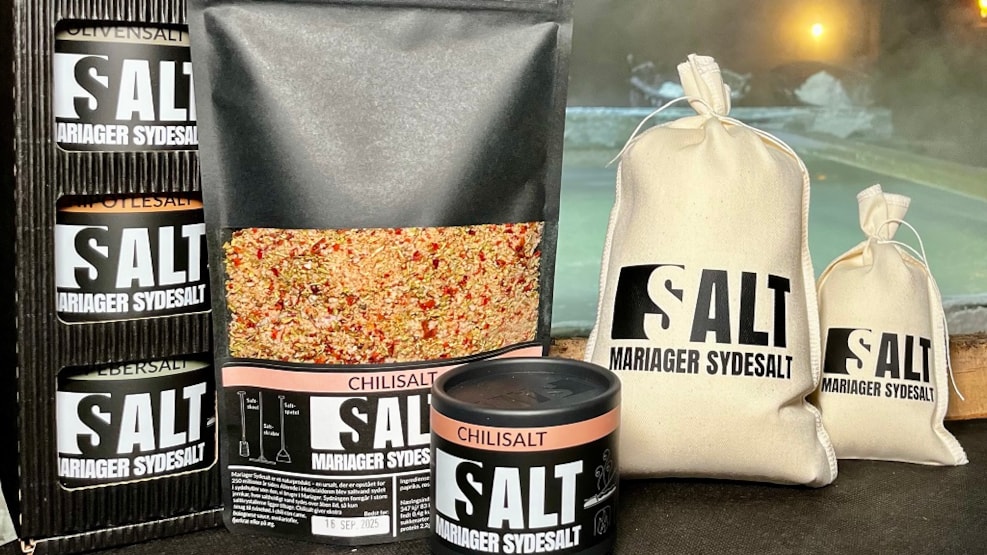 Mariager Salt
Mariager Salt – from earth to table to cloud nine
More than 18 different variants of sea salt and salt with spices are just some of the things that Mariager Saltcenter has to offer. They don't only make salt for eggs, but to all types of meals like roasted pork (flæskesteg), fish and pasta. The specialized salt is made with spices like nettle, chili and lemon etc.
The raw salt is retrieved from a giant salt dome which is located in the area. The salt from the salt dome in Hvornum gets led through a 26 km long tube to the salt factory Akzo Nobel in Assens, just a few km from Mariager. At the salt factory they make the salt that you will find on almost every Scandinavian kitchen table, the salt for dishwashers and road salt etc.
At Mariager Saltcenter they often experience with different spices and have a lot of different variations to offer. Maybe you should try a little sprinkle of Garlic Pepper Salt on a piece of rye bread with eggs – it will take you to a state of blissful happiness.  
Mariager Sydesalt (Sea Salt) and Mariager Kryddersalt (the one with all the spices) is available for purchase in many of the local stores and of course in Mariager Saltcenter's very own shop. 
Destination Himmerland © 2023