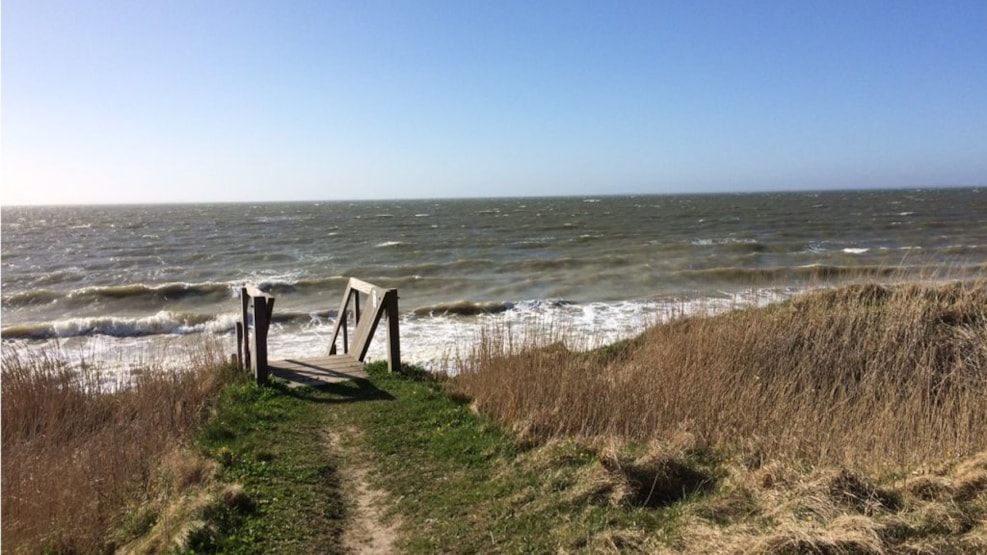 Næsbydale
Næsbydale which is located between Rønbjerg and Løgstør in a V-shaped erosion valley, where the running water has cut itself into the high-lying moraine landscape on its way to the sea since the Ice Age. The valley is ending abruptly in a 35-meter-high cliff and is one of the few places in Northern Jutland, where the sea constantly is digging into the landscape, which is changing the look of the cliff all the time. Today, the cliff is so deep that it is near the groundwater, which can also be seen multiple places along the beach.
Along the beach, you can find different kinds of rocks, and if you are lucky, you may find some, which is from the Ice Age. If you are looking closely, you may also find fossils.
From Næsbydale, there is a beautiful view of Livø. If the weather allows it, you can easily get a view of Livø. Sometimes, it will also look like Livø is getting closer. This is a phenomenon that can appear in dark and cloudy weather if there suddenly is a hole in the layer of clouds, and the sun is shining at Livø. This phenomenon has created the saying "When Livø gets closer, we are getting other weather".
Destination Himmerland © 2023