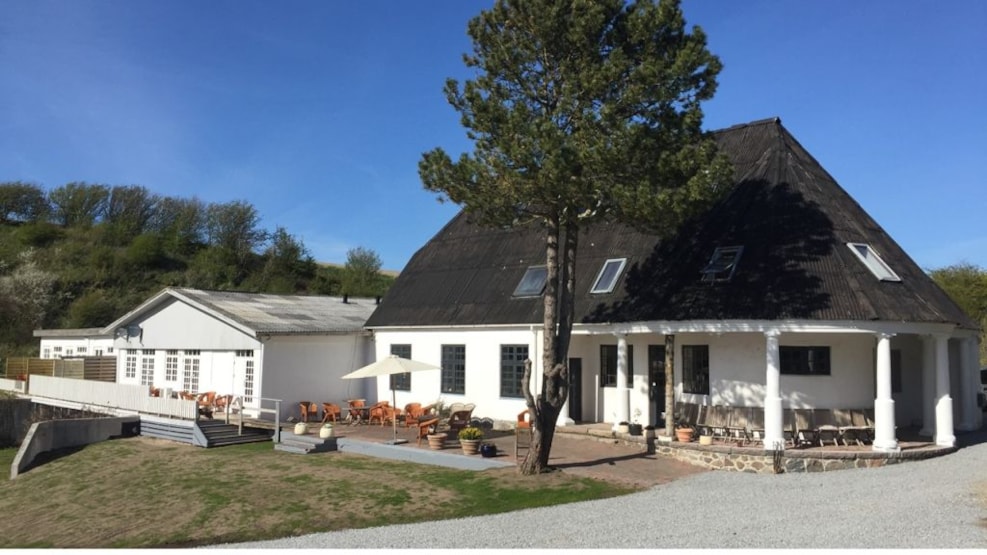 Næsbydale Seaside Hotel - Café & Restaurant
We are offering Næsbydale-specialities – a delight in the atmospheric living rooms in the baron's house, at the terrace, or in the restaurant – with views over the valley and fjord.
Næsbydale wants to tell culinary stories; about their love for fresh ingredients, local roots, and ecology and quality is a priority.
Inspired by the South European tastes, we are creating meals with a touch of sun, warmth, and passion for "the pure taste". We are aiming at aesthetics and gastronomy which can match the place's authenticity and lovely surroundings.
We are hoping that you will enjoy your meal, whether you are alone or in a company, and that you are feeling relaxed and inspired, when we are serving the food "a la mamma" in rustic bowls made of clay – as a shared meal around the table.
You will always find fish or something else which comes from the sea, at the table, like you also will find, different kind of grilled meat, a wide selection of vegetables, different kind of potatoes, cheese and desserts and homemade bread.
In addition to this, you will also be offered draught beer, quality wine from 'Glenholm Vinery' and 'L'Esprit du Vin', organic juice, soft drinks, water, and a wide selection of hot drinks as well.
Focus on locally produced and organic ingredients.
Our rye bread is baked of rye from 'Herregården Hessel' and malt from the local brewery in Hessel.
Our white bread is baked on organic wheat and wheat by a local farmer.
Our salad (and vegetables) are organic and are being delivered daily from a farmer in Strandby.
Our meat is from Himmerland, and the animals are being slaughtered at a small slaughterhouse in Farsø and are being delivered once or twice every week.
Our schnapps is a selection of old classics and schnapps from local distilleries.
Our cakes are homemade and are mostly made from organic wheat and locally produced ingredients, but there is also real Belgian chocolate in our brownies.
If you have special needs or wishes for the menu, please contact us for an appointment.
Opening hours 2022 - in the café and restaurant
Wednesday: 3 pm – 8 pm
Coffee and cake: 3 pm - 5 pm
Dinner: 5.30 pm - 8 pm
Saturday: 12 pm – 8 pm
Lunch: 12 pm - 3 pm
Coffee and cake: 3 pm - 5 pm
Dinner: 5.30 pm - 8 pm
Sunday: 11 am - 5 pm
Brunch: 11 am - 2 pm 
Cake ad Libitum: 2.30 pm - 4.30 pm
Table reservation is required – book your table at +45 24949342.
We are closed in the period December 19th 2022 to March 1st 2023.