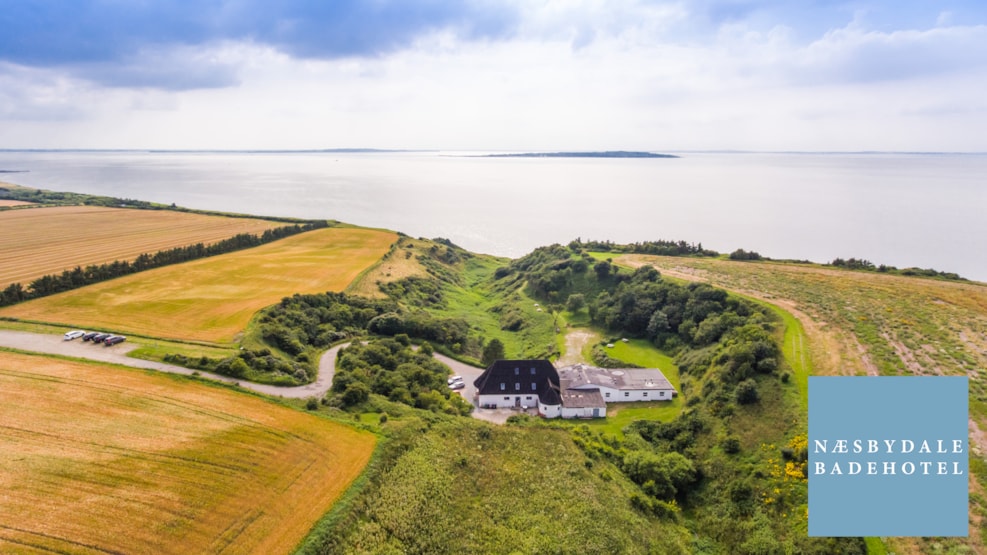 Næsbydale Seaside Hotel
Welcome in the calm and beautiful surroundings of Næsbydale Seaside Hotel.
Næsbydale is more than just a place… it is a condition.
When going down the steep road to Næsbydale, you are entering another world.
Næsbydale is a V-shaped erosionhall, that has a 35 meter tall cliff that leads down to the ocean, which constantly eats its way towards the Seaside Hotel.
Combine the beautiful and unique nature with a view of the Limfjord and Livø and enjoy lunch, a cup of coffee and a slice of homemade cake.
Næsbydale Seaside Hotel has an exciting history and can be considered as an attraction because of its origin, its numerous floras, and last, but least "The Baron's House". The Baron's House was built by the Baron at Gavnø in 1918, which later changed into a much famous and well-visited seaside hotel and small restaurant in Vesthimmerland. The valley became a preserved nature reserve in the '70s.
The buildings at Næsbydale went through considerate renovations, which resulted in that Næsbydale today is a seaside hotel, with a café in the Baron's house, a restaurant, a rotisserie, and 8 apartments/rooms with a view over the valley and the Limfjord – where Livø is to be found.
The café and restaurant are serving cake tapas, a popular luxury brunch, lunch, and dinner. The wine, which is being served, is carefully chosen from quality vineries in both Denmark and from abroad. In addition to this, Næsbydale is hosting different kinds of events during the year – both musical, cultural, and artistic events. Furthermore, it is also possible to book private events and parties.
At Næsbydale Seaside Hotel, you can combine an authentic experience at the seaside hotel with a walk in the beautiful valley. When you are going through the valley down to the beach, you will experience peacefulness.
Opening hours 2022 - in the café and restaurant
Wednesday: 3 pm – 8 pm
Coffee and cake: 3 pm - 5 pm
Dinner: 5.30 pm - 8 pm
Saturday: 12 pm – 8 pm
Lunch: 12 pm - 3 pm
Coffee and cake: 3 pm - 5 pm
Dinner: 5.30 pm - 8 pm
Sunday: 11 am - 4.30 pm
Brunch: 11 am - 2 pm 
Cake ad Libitum: 2.30 pm - 4.30 pm
Table reservation is required – book your table at +45 24949342.
We are closed in the period December 19th 2022 to March 1st 2023.