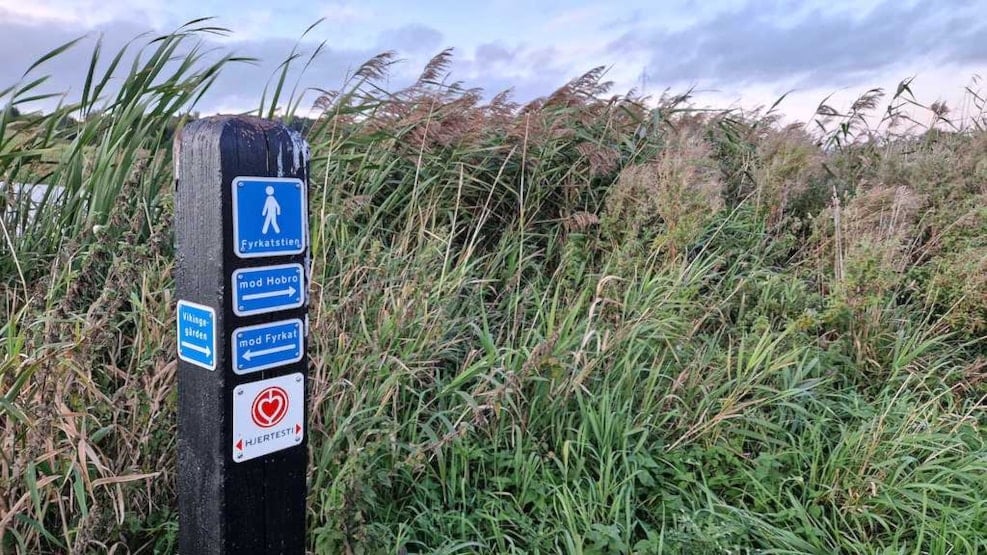 Nature path by Fyrkat Engsø in Hobro
This trail is called a "Heart trail" and is established by the Danish foundation "Hjerteforening". The trail is a wonderful nature route with amazing nature surroundings, lakes, streams and a rich wildlife like birds, otters etc. 
When walking the trail you can follow the white signs with a red/white heart shaped figure and the text "Hjertesti". 
Find a map and more information on this site - click here!
Follow the steps of the Vikings 
In the area by Fyrkat Ensøg and Onsild Ådal, there is another great walking path called "Fyrkatstien" that connects the nature area with the center of Hobro.
In the Viking Age Mariager Fjord went all the way out to the viking fortress Fyrkat. Today there is more land than water in the area, but the trail "Fyrkatstien" follows the old waterway, so when you are walking on the trail, try to imagine how the big Viking ships sailed on the fjord directly to Fyrkat. 
The entire trail has signs marked "Fyrkatstien" so it is easy to follow without a map. 
Read more about Fyrkatstien here!
The Ancient Road and the Mariagerfjord-route 
Combine the walking trail with a nice bike ride on The Ancient Road and the popular Mariagerfjord-Route 32. Both routes pass by Fyrkat.