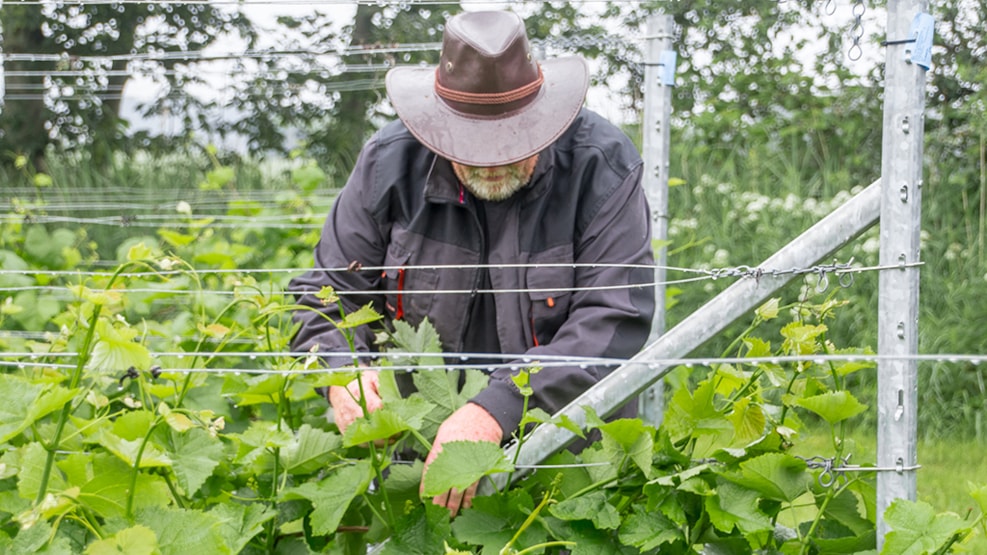 OddeKystVineri
Experience this charming little vineyard at Als Odde - close to Mariager Fjord, Kattegat, and Øster Hurup. Open for visits and hosting events throughout the year.
OddeKystVineri is a small Danish vineyard that started by planting 50 grapevines in 2010 on the ancient seabed near the entrance to Mariager Fjord. There is a passion for Danish wine here!
The combination of grapevines planted on the 17,000-year-old seabed, benefiting from the warm climate from the sea and fjord, along with the favorable climate conditions found in the beautiful East Himmerland, leaves a distinct mark on the wine produced at the vineyard's own winery. The new winery was built in 2021 specifically to handle the grapes from the now 2,000 vines.
The production of the vineyard's wines takes place in a very gentle manner, where nature, grapevines, and the finished wine come together in harmony. Care has been taken to minimize the use of additives and energy. For example, it's worth mentioning that 85% of the energy used in production comes from solar cells and geothermal energy.
The vineyard produces red, white, and rosé wines, as well as various Danish sparkling wines and a liqueur. From the grape pomace, different grape brandies and a special ChateauGin made from grape skins are produced, all of fantastic quality. Each label tells a local story that has given the wine its name. All products can be purchased at the vineyard's shop and during local wine tastings.
Throughout the year, there is a wide selection of events at the vineyard, including wine tastings, guided tours, and various other events.
The vineyard's shop is open every day of the week during the high season.
You are always welcome to visit the vineyard and have a chat with the winemaker. OddeKystVineri welcomes you and looks forward to providing a great experience of Danish wine by Denmark's most beautiful fjord.
For more information about the different events, please visit their website and Facebook page.
Destination Himmerland © 2023