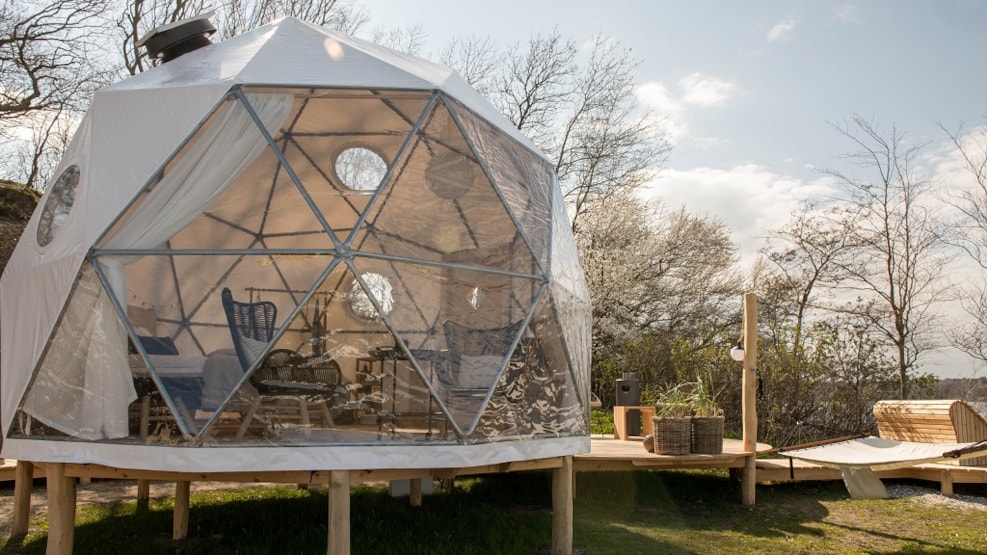 The Pacific Domes "Fjordboblerne", Mariager Camping
Go on a glamping holiday at Mariager Camping. In the Fjord Bubbles, you are close to the fjord, forest, and a lot of culture and history in the old cobblestone district.
The Fjord Bubbles or correctly called "The Pacific Domes" are a new form for accommodation at Mariager Camping. The "bubbles/domes" are best explained by being a mix of a tent and a shelter with a touch of glamour and luxury like in a hotel room. 
You can call it an outdoor hotel room or the popular name glamping. 
The domes that are shaped as bubbles are made for all kind of weather, has a big panorama window from where you can enjoy the view of the beautiful Mariager Fjord and the amazing nature surrounding the camping site. 
Inside the domes you will find a well made double bed, lounge furniture and a bio fireplace. Furthermore there is a mini fridge, coffee/tea and tableware for two persons. 
Outside there is a nice terrace/lounge area and an outdoor shower - one for each dome. 
The domes are each suitable for 2 persons. Towels are included.
Smoking is not allowed.  
It is not allowed to bring dogs to the domes. 
Other purchases: 
It is possible to rent bathrobes.
Breakfast can be bought at the camping site 
The fridge is filled with delicious beverages, which you have to pay for just like in any other hotel room. 
The camping site rent out bikes, SUP-boards and kayaks. 
Mariager Camping
With its unique location right by Mariager Fjord, Mariager Camping & Hytter is the natural choice for modern families with children and active seniors who seek a quality holiday in peaceful and safe surroundings.
The campsite serves as an excellent starting point for excursions, nature experiences, bike rides, and gathering across generations. There are ideal opportunities for fishing.
It is only a 2-minute walk to the center of the idyllic old market town - Mariager, or to the marina, which comes alive with life and activities during the summer period.
Denmark's second-best campsite
For the second year in a row, Mariager Camping came just a few steps away from taking home the victory at the Danish Camping Award. In 2022, they achieved a 2nd place as "Danish Campsite of the Year - Classic." And in 2023, they once again secured a 2nd place, this time in the category "Danish City-Near Campsite of the Year."
However, it should be noted that in both years, the 1st place went to a campsite in Zealand - so is Mariager Camping the best campsite in Jutland? They can certainly take pride in being the best in the west.
Destination Himmerland © 2023