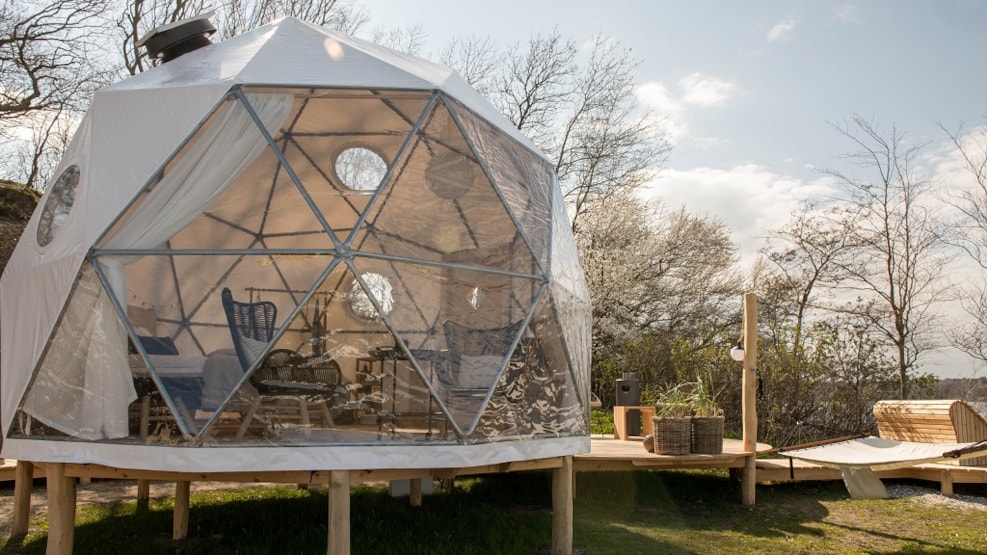 The Pacific Domes "Fjordboblerne", Mariager Camping
In Mariager it is now possible to go on a nice glamping-trip by Mariager Fjord. Outdoor vacationing is more popular than ever before, and at Mariager Camping the new pacific domes also called "Fjordboblerne" are a great example of going camping, but still having a touch of luxury like in a hotel room. 
The Fjord Bubbles or correctly called "The Pacific Domes" are a new form for accommodation at Mariager Camping. The "bubbles/domes" are best explained by being a mix of a tent and a shelter with a touch of glamour and luxury like in a hotel room. 
You can call it an outdoor hotel room or the popular name glamping. 
The domes that are shaped as bubbles are made for all kind of weather, has a big panorama window from where you can enjoy the view of the beautiful Mariager Fjord and the amazing nature surrounding the camping site. 
Inside the domes you will find a well made double bed, lounge furniture and a bio fireplace. Furthermore there is a mini fridge, coffee/tea and tableware for two persons. 
Outside there is a nice terrace/lounge area and an outdoor shower - one for each dome. 
The domes are each suitable for 2 persons. Towels are included.
Smoking is not allowed.  
It is not allowed to bring dogs to the domes. 
Other purchases: 
It is possible to rent bathrobes.
Breakfast can be bought at the camping site 
The fridge is filled with delicious beverages, which you have to pay for just like in any other hotel room. 
The camping site rent out bikes, SUP-boards and kayaks. 
Mariager Camping
Mariager Camping is a quiet and friendly family site, situated in the heart of Mariager on the shores of Mariager Fjord. It offers fine bathing, surfing, sailing and angling. The site is an excellent base for excursions, scenic walks and cycling tours round the fjord.