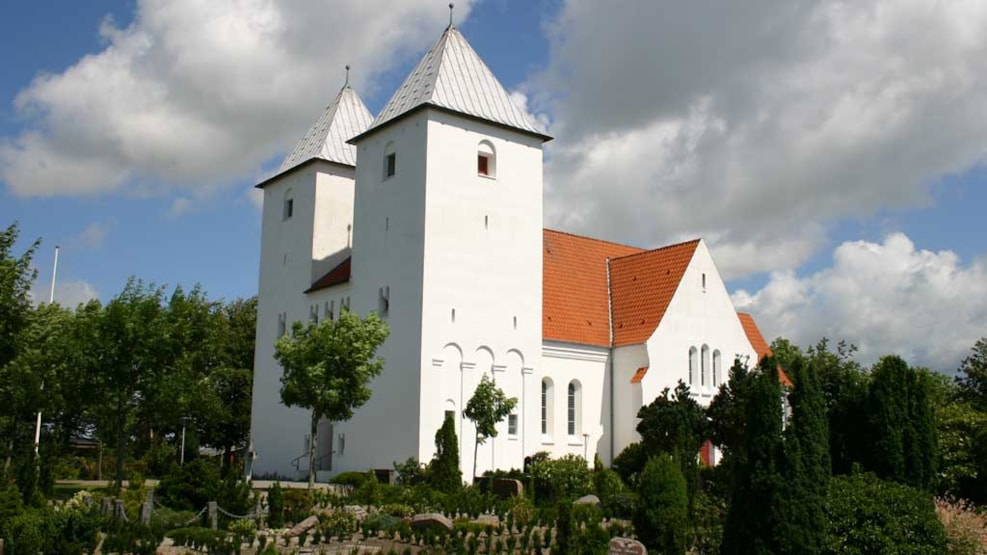 Ranum Church
In 1909 the church of Ranum was built as a cross-shaped church with a copper spire in the middle of the cross.

However, 20 years after the church was built it was discovered that the way in which the spire was constructed put too much pressure on the outer walls. With the financial assistance of a local storeowner, who had wom a substantial amount of money through card games with other locals, it bacame possible to take down the spire and replace it with a construction that culd support the outer walls. The sollution was twin towers that were consecrated in 1931.

The fresco in the church dates back to 1921 and is made by Niels Larsen-Stevns. The text of the fresco is naned "The Second Coming of Christ to the Town and Vicinity of Ranum". It is considered one of the major works of church art from the 20th Century.

Erik Heide made a splendid crucifix in the year 2003. The same artist has worked up a granite boulder, which can be seen at the eastern part of the graveyard.

The church organ was built in 1975 by Troels Krohn and has 26 organ stops.
Destination Himmerland © 2023