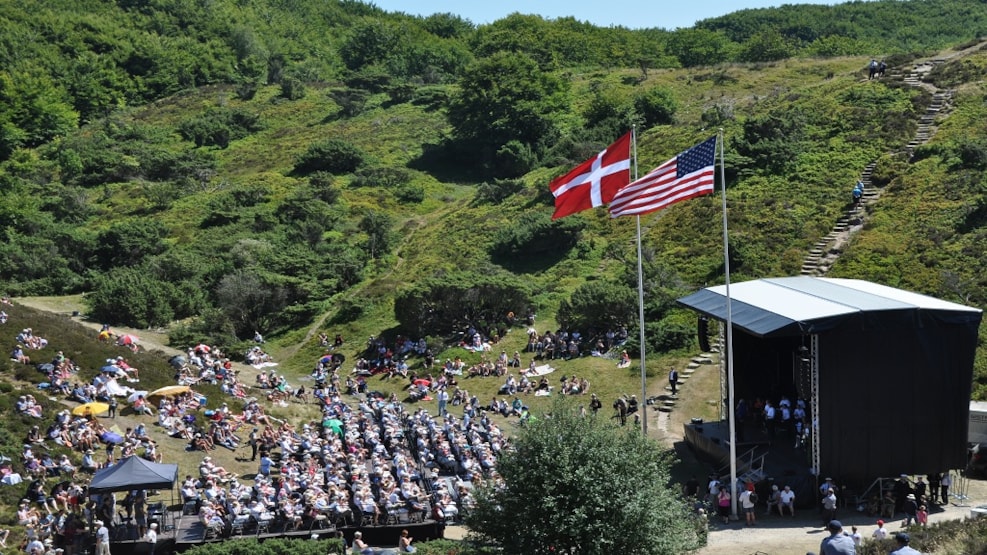 The Rebild Celebration
The fourth of July celebration that happens here every year is deeply connected with the history of the area. The celebration is a reminder of the strong bonds between the US and Rebild.  
The Rebild Celebration is an event that takes place on the 4th of July every year – The American Independence Day.
The 4th of July celebration is one of, if not the largest, celebration outside the USA. 
A forerunner of the Rebild Celebration was held in connection to the national exhibition in Aarhus in 1909. However, Max Henius (1859-1935) wanted to create an annual recurring gathering point for Danish-Americans, and bought 77 hectares of heather land (Rebild Bakker) in 1910, with the purpose of being the hosting location. The money came from donations from Danish-Americans. The land was given to the Danish king and in return the land could be used for the 4th of July celebrations every year.
The first Rebild Celebration took place on august 5, 1912, and had already been planned when King Frederik 8. died on May 5, 1912. Stories said that the late date was due to national mourning after his death, however, the late date was already decided beforehand, thus leaving it a mystery why the celebration was delayed.
At the first celebration, 10-15,000 people came, among others to hail the new king, King Christian 10.
With exception of 1913 and during World Was 1 and 2, every year the celebration has reoccurred in the heathery hills. Many celebrities has also been at the celebration such as
kings and queens of Denmark, Walt Disney, Richard Nixon and many more.
The celebration has a great support in the local area, and has throughout the years been well-attended with as much as 50,000 guest in 1948.
Read more about the largest Independence Day celebration outside the US here.
Location: Rebild National Park, Rebild Bakker
Organiser: Rebildselskabet, Rebildvej 29, Rebild 9520 Skørping. Phone: +45 98 39 14 40 - +45 22 18 20 40
Destination Himmerland © 2023