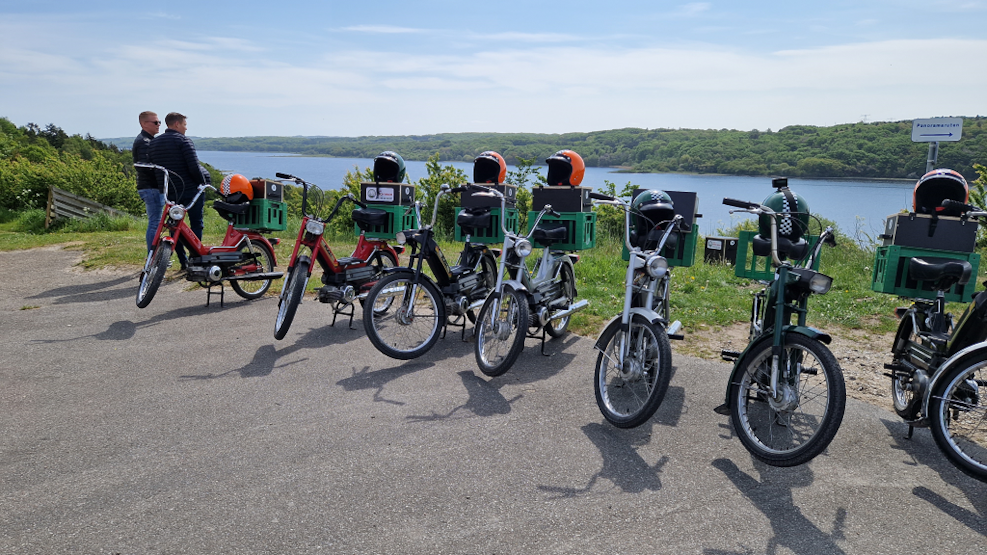 Rent a Puch Maxi in Himmerland
Jump on the scooter and embark on an adventure along the coast of Mariager Fjord. Near Stinesminde in Himmerland, you can rent a Puch Maxi each and zoom off together into the Himmerland scenery.
Full throttle - and off you go. The very special and crisp Puch Maxi mopeds hold a special place in many hearts. The green milk crate on the back, the Polle helmet on your head, the scent of gasoline, and the sound of the right engine - it's something truly special.
In Stinesminde between Hobro and Hadsund, you can rent these nostalgic Puch Maxi mopeds and zoom through Himmerland on your own.
Everything is taken care of - and the milk crate is complemented by a nice wooden crate, so your personal belongings, cold drinks, and maybe a packed lunch can easily come along on the trip. The crates can be taken and used as stools when you reach your resting place.
Experience the Mariager Fjord - and head towards the Bramslev Bakker
There are already specific routes to choose from in advance. If the spark plug burns out or something else happens during the tour, the mechanic can quickly locate you - he's just a phone call away.
One of the tours leads to the Bramslev Bakker - an ideal place for a break. The way there goes through Stinesminde, the cozy "butter hole" Høllet, and past the Lundsgaard burial mound, which is perfect for a pit stop. From the top of the hill, you can enjoy the beautiful view over the landscape, with a view of Kielstrup and the Mariager Fjord in the distance.
There are plenty of viewpoints on this tour through the heavenly landscape. The next stop on the tour is the Bramslev Bakker, which offer a unique panoramic view from the top of the hills at Restaurant Bramslev Bakker.
We do not recommend driving the mopeds down to the water - then you would have to push uphill on the way back.
From the Bramslev Bakker, the tour returns to Løvdalsvej, where you can treat yourself to an ice cream at Ishytten near the rental station. Here, there is honest self-service and a fine selection of delicious ice cream from Frisko.
Learn more about these special moped experiences through the link here!
Destination Himmerland © 2023