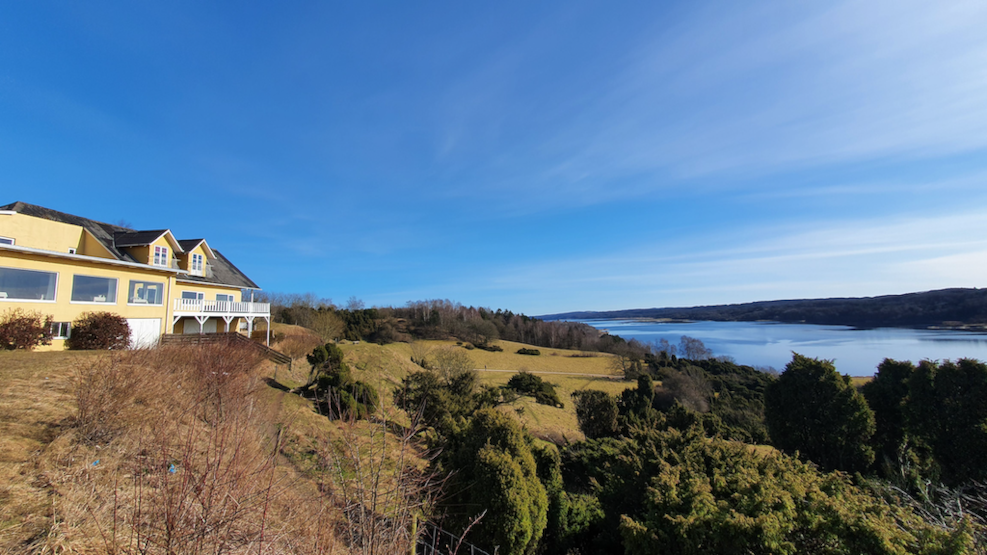 Restaurant Bramslev Bakker
Enjoy a good meal and the spectacular view of Mariager Fjord, at the restaurant located on the top of the hills in Bramslev Bakker near Hobro. 
The restaurant is closed for the season
With a visit to Restaurant Bramslev Bakker, you are guaranteed a delicious meal and a magnificent view of Denmark's most beautiful fjord, Mariager Fjord.

With a beautiful location right by Mariager Fjord and a good kitchen, Restaurant Bramslev Bakker is ready to give you a wonderful dining experience in the most beautiful natural surroundings.

A meal with a view ..

The restaurant is located on top of the highest hill (over 50 m) in the area of Bramslev Bakker. Here you can enjoy a great overlook of Mariager Fjord and the hills, while enjoying a good meal or a cup of coffee with accompanying home baking.

Do you like hiking? Then buy some take away at the restaurant and take a stroll in the hills and follow one of the greatest and most beautiful hiking routes in Denmark - the Panorama Route.

The Panorama Route between Hobro and Bramslev Bakker was the first hiking route in Denmark to become a certified premium hiking route. Along the route there are several benches, which makes it a great place to enjoy some take away, a cup of coffee or just to relax while hiking.  

If you start in Hobro and walk to Bramslev Bakker – we recommend to take a break at the restaurant and enjoy the atmosphere and a lovely meal, before returning to Hobro.

Parties and dining

Restaurant Bramslev Bakker is good for parties and does everything from christenings to crown diamonds, but is also the ideal place for excursions for larger parties, whether it is dinner or dinner, or the sumptuous coffee table.