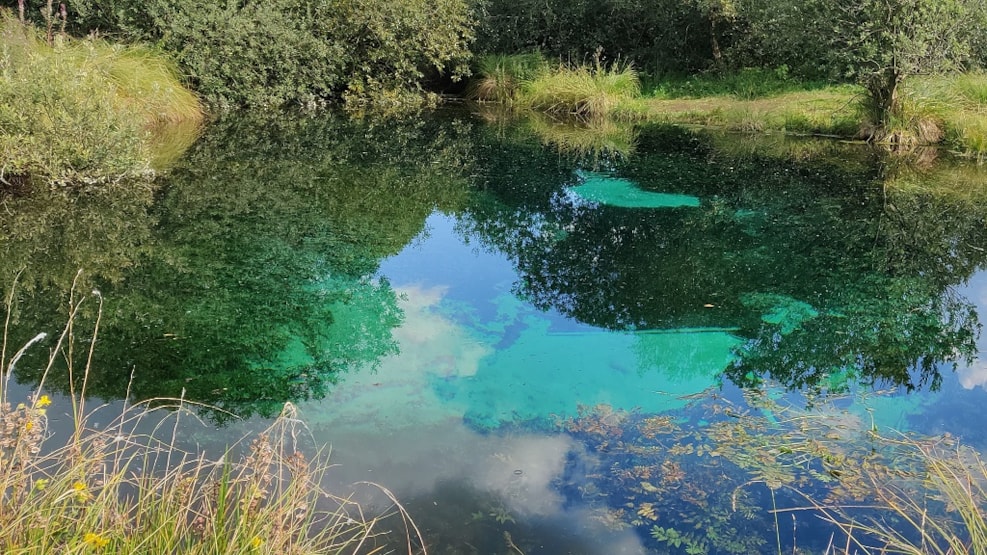 Store Blåkilde
Store Blåkilde is a beautiful spring located in Rold Skov. The spring is very unique because of its sapphire blue color.
The color appears due to the crystal-clear water and the fact that the bottom of the spring consists of pure lime, several places. 
It is a sight worth seeing - and on a sunny day, the spring is absolutely breathtaking. 
The particles from both sand and lime clearly shows from where the water is piping, which gives it a very special play in the source of the basin spring. 
The water in the spring has an all-year temperature of 7-8 degrees Celsius. The basin is 12 meter wide and 4 meters deep. It is forbidden to swim or go into the water and it is recommended that you keep your distance from the banks, as they can appear unstable and very swampy. 
Where does the water come from? 
It is a bit unclear whether or not the water comes from the nearby located lake Madum Sø. It is written several places, that the water in Store Blåkilde is originated from Madum Sø, but there aren't any prove of this. There is without a doubt an enormous underground water system in Rold Skov, which leads to a connection between many of the lakes and springs. 
What we do know for sure is that the water from Store Blåkilde leads to another lake nearby. Store Blåkilde supplies Villestrup Å with water as well as the lake by Willestrup Gods - a manor located close to Store Blåkilde. 
Parking: There is a parking lot on Møldrupvej, from where there is a path on the other side of the road that will lead you to Store Blåkilde. Along the way you can enjoy the view of fields and meadows before ending up on the plank path that leads you the rest of the way to Store Blåkilde.
Store Blåkilde is located south of Madum Lake, and can be found on The Rold Skov Overview Map, under point number 31.