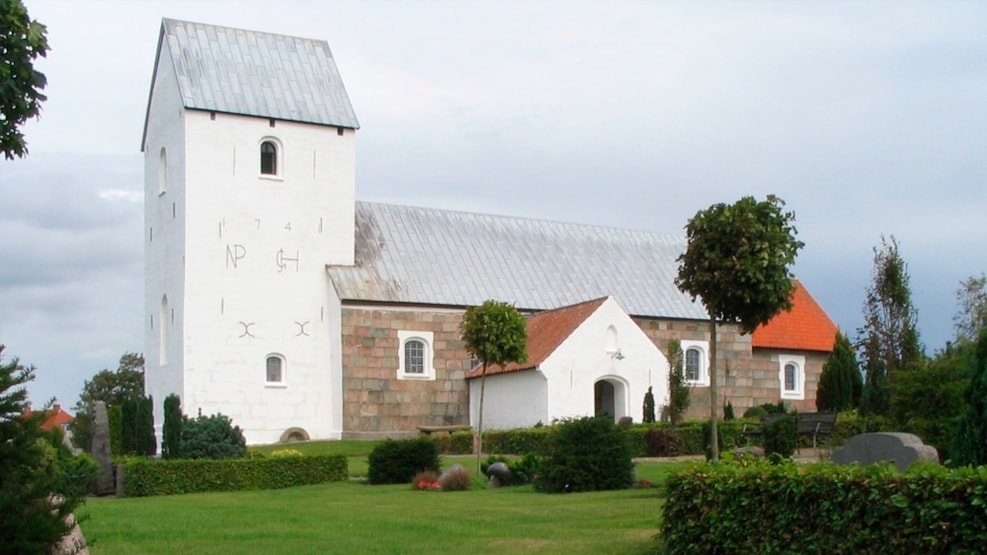 Strandby Church
The church of Strandby with a Norman style nave and chancel was build in the late 12th century. Around 1500 the present Gotich tower and porch were build. At the same time the chancel was extended by a brick cross-vault decorated with mural ornaments.

The equipment in the church stands as evidence of the wealth of its owners. During the period 1573-1912 it belonnged under the manor of Gunderupgård, and much of its interior are donations made by Niels Poulsen and his wife Gertrud Hofman whose names and coat-of-arms appear in the church.

The alatrpiece and the pulpit date back to the early 17th century. They have been decorated with new pictures. Beside the pulpit donated by Axel Juul of the Bjørnsholm and Gunderupgaard manors stands the portdecorated entrance. A treasure is the canopy from 1724. Stored in the loft, but with the restoration of the church 1978-1980 it was hung up.

The two votive ships are of recent date, one was donated by his majesty King Frederik IX in 1951. You can pick up the key at the adress Løgstørvej 20, Farsø.