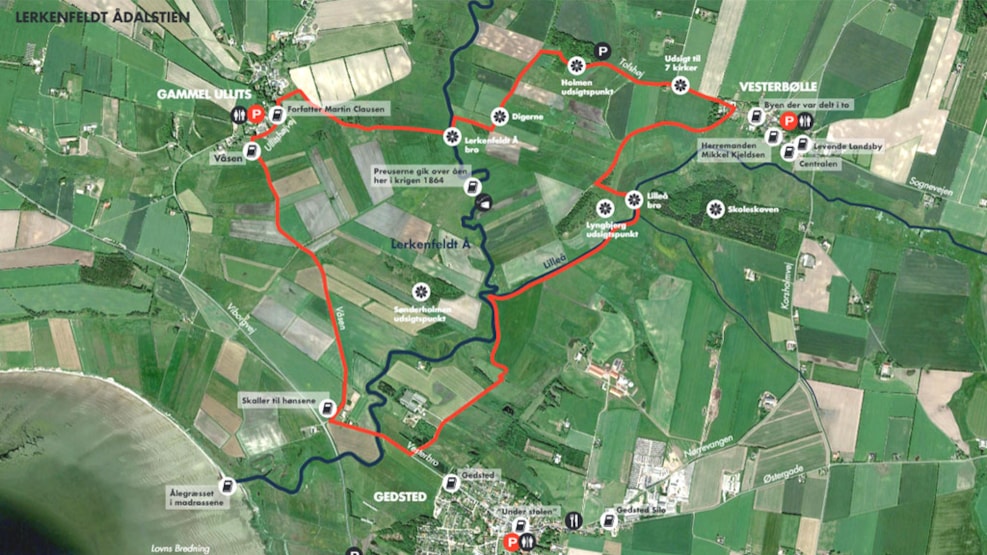 Stream Valley of Lerkenfeldt
Hike the stream valley of Lerkenfeldt
The stream runs 38 km from Mejlby in the East to Lovns Shore and pass by the villages Gl. Ullits, Vesterbølle and Gedsted.
The stream has been a big part of the every day life in the villages for centuries. This brand new trail connects the villages and gives the citizens and tourist opportunity to hike through the villages from village to village.

Experience the beautiful views and sights, you may be lucky to see some of the wild life, experience the scenery and a special cultural heritage, exciting culture in the villages, peace and quietness.  


The trail is approx. 10 km and marked with signposts. Experience the grand and varied scenery, which offers different types of nature such as streams, dykes, fields, pastures and much more. Dependently the season, it is possible to see kingfishers, ducks, nightingale, deer and much more.
The trail is also rich on stories about the scenery, wild life, botany and not least the locals – now and in the past.