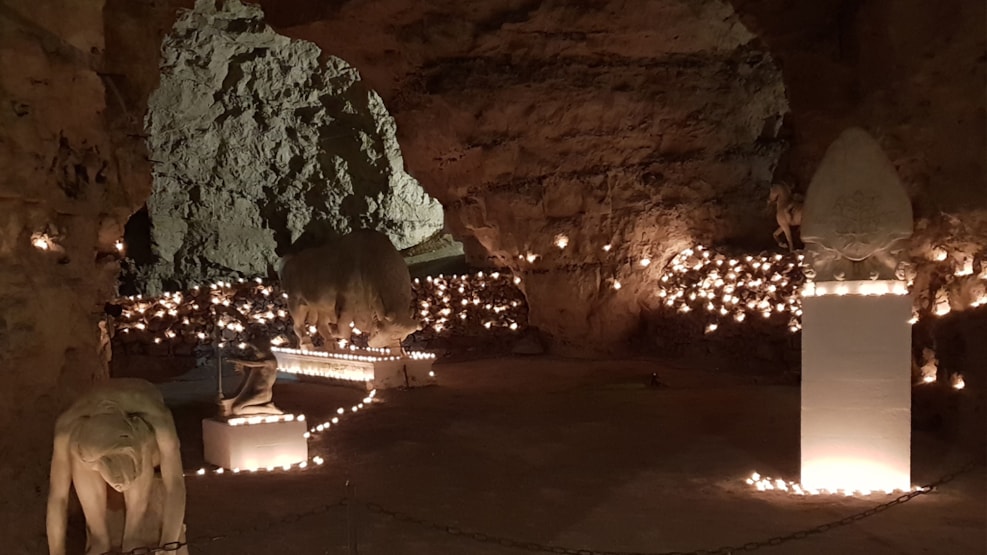 Thingbaek limestone mine I Museum
At Thingbaek Limestone Mines and Museum RebildCentret, you can experience Limestone, art, springs, and an exhibition about the Cold War.
In Thingbaek Limestone Mines you can experience a sculpture exhibition and at the museum building you can experience different exhibitions
The limestone mines
While limestone has been mined at the surface level for generations, the Thingbaek limestone mine was first opened in 1926. The mine was in operation until 1960, where it became unprofitable. The mines were already open to the public in 1935 and housed sculptures by Anders Bundgaard.  
Today, the mine has become a sculpture museum, with sculptures of gypsum created by Anders Bundgaard, bronze sculptures by Carl Johan Bonnesen, and a relief cut into the limestone wall by Søren Assenholt. The sculptures in Thingbaek have been the model and inspiration for many famous sculptures such as the Cimbrian Bull, the Reunion Monument, and the Gefion Fountain. Different temporary exhibitions can also be experienced inside the mines. The atmosphere created by the lofty cave-like mine truly adds to the experience of walking among the sculptures.
During the winter months, different species of bats hibernate inside the limestone mine awaiting the return of spring.
The museum
Besides the limestone mines you can experience different exhibitions in the museum
700 m² exhibition about the Cold War and Denmark's deepest secret - REGAN Vest
The exhibition "Sources of Life" about limestone and springs
Additional information
As the opening hours and prices may vary, we recommend you check the RebildCentret and Thingbæk Kalkminer website to see the current opening times and prices. OBS. The website is only in Danish.
Destination Himmerland © 2023