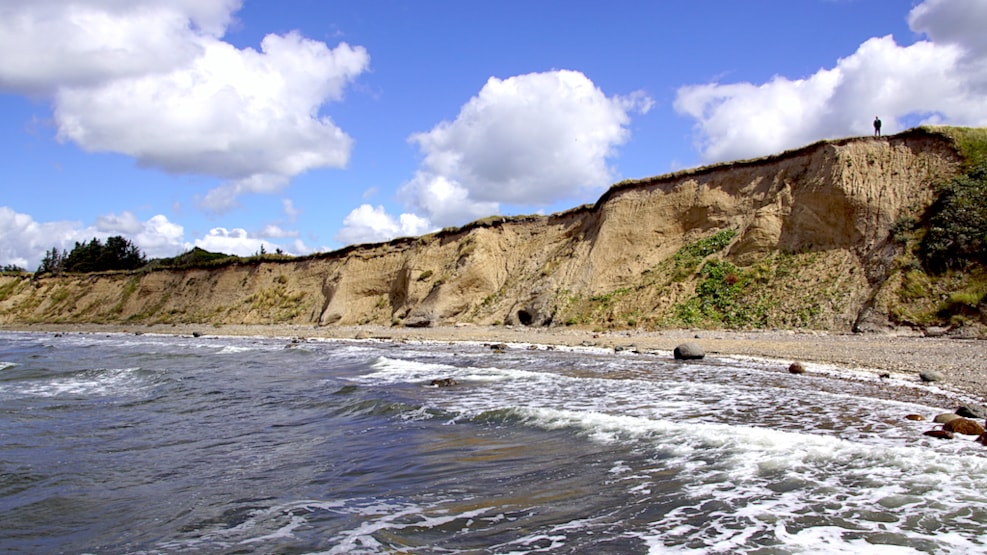 Trail of Ertebølle / Hike&Bike
This route is for you if you want to try a cycling tour through Vesthimmerland's beautiful nature and experience the coastal landscape of the Limfjord.
At Myrhøj plantation and Skovbakker near Hvalpsund, you will find some primitive campsites which are free to use.
At Ertebølle Head, you can experience a flake consisting of both moler and layers of ashes in the 20-meter-high coastal cliff. Furthermore, it is also possible to find fossils.
At Ertebølle you will find a kitchen midden from the Hunter Stone Age. At this time, the beach and the fjord made it possible for the people to live off fish, mussels, and birds.
The Louns peninsula is a preserved area with hiking routes along the beach and in the hills. The ferry port and the yachting harbour in Hvalpsund is attracting a lot of international guests because of its good facilities.
Along the route, you will find lots of possibilities for accommodation including camp cites and private accommodation.  
Activities to do along the way:
- Fossil hunting

- Swin at the beach which have a Blue Flag

- Good surfing possibilities

- Diving

- See things from the Stoneage