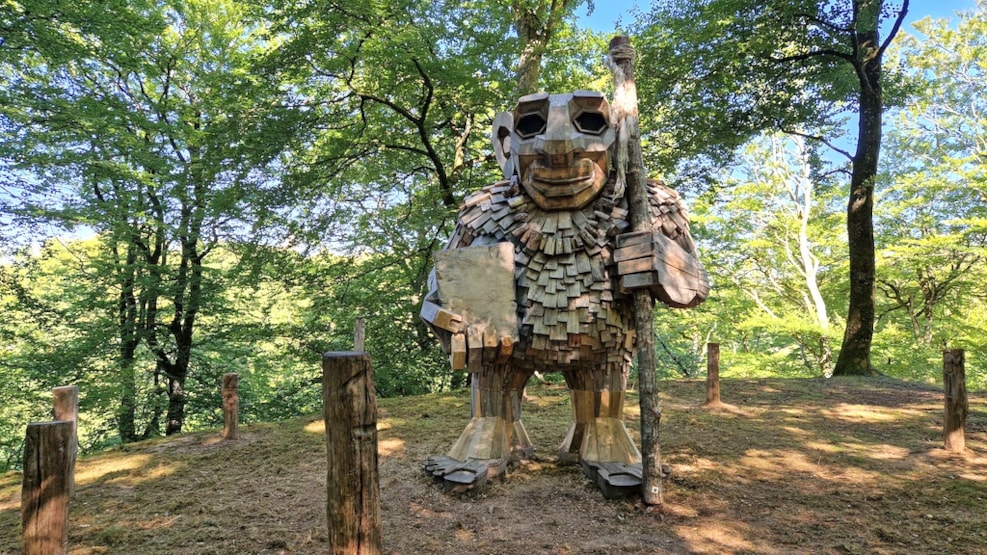 The troll Ivan Evigvår in Mariager
Deep within Munkholm Anlægget in Mariager, resides a truly special creature. Take your friends and family into the deep stillness of the forest and see if you can find the mighty troll Ivan Evigvår.
Troll hunting in Mariager
In 2022, the troll Ivan Evigvår moved to the City of Roses, Mariager. Here, he has settled comfortably in the beautiful surroundings of Munkholm Anlægget.
We won't reveal his exact location, but if you start at the Rose Garden in Mariager and enter Munkholm Anlægget, following the trail, you're on the right track.
Ivan Evigvår is easy to spot. He is approximately 2 meters wide and 3.5 meters tall. But don't worry, he's not like most trolls. He is gentle, happy, and simply delightful to encounter.
The troll was created by artist Thomas Dambo, who is also responsible for many other trolls that can be found not only in Denmark but also in several places around the world.
Do you want to meet Ivan Evigvår? Visit artist Thomas Dambo's Trollmap and see if you can locate Ivan Evigvår. You can access the website by clicking here.
When Ivan Evigvår became homeless
The fact that Ivan Evigvår moved to Mariager was not a coincidence. In fact, it took quite an effort to bring Ivan Evigvår here. Ivan Evigvår came into existence during "The Great Troll People's Festival," a project that emerged due to Covid-19.
Since then, he had been living in Sydhavnen, Copenhagen. However, due to new construction, Ivan Evigvår suddenly became homeless in 2022. Therefore, artist Thomas Dambo organized a competition where people could vote on where Ivan Evigvår should move. Among five other cities, Mariager was nominated and thus participated in the competition to welcome a new resident to the town.
With over 51,000 votes, Mariager became the lucky city to house Ivan Evigvår in the future, bringing joy to many in Mariager and its surroundings.
Discover more trolls and learn more about artist Thomas Dambo's work on his official website thomasdambo.com.