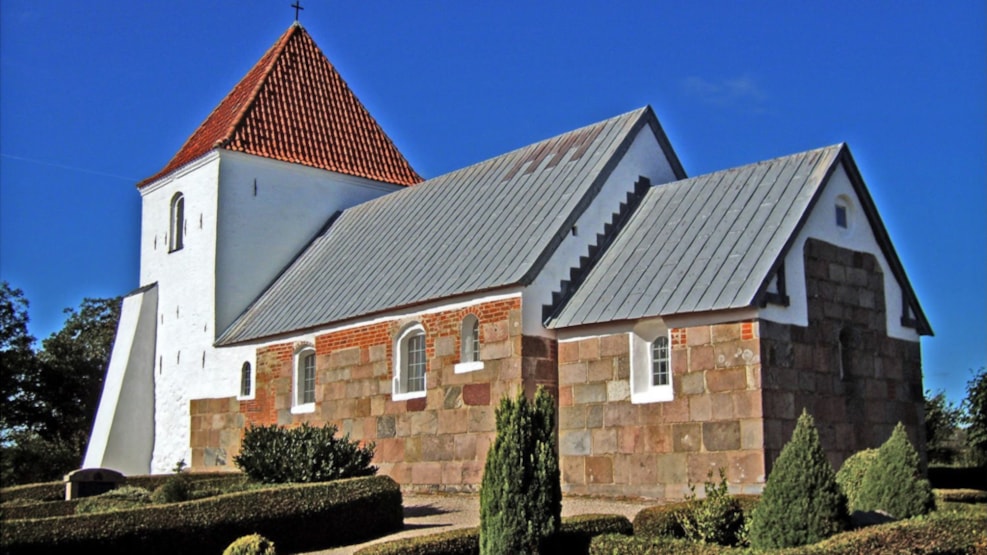 Ullits Church
The church of Ullits stands high above the village on a steep hill. The granite ashlar church dates back to 1200. The buildings have been redesigned up through the years, this is clearly reflected in many different stones in the south wall of the nave. The chequerd ashlar high up is particulary worth seeing. Details are also the three hidden niches. They have a drain and were presumably used for excess communion wine.

The tower, wihich is just as wide as the nave with access through a round-vaulted arcade, is of special interest. The tower was build af granite ashlar at the bottom and raw fieldstone up top. In 1956 big murals were discovered on the walls to the north, south and west. Unfortunately, the request from the National Museum to uncover the murals could not be met as the walls were saturated by damp and mould.

In 1990, some of the frescos of the choir and chancel arch were restored. On the same occasion it was decided to uncover the original altarpiece wich dipcits the Last Supper. The pulpit an presumably also the altarpiece date back to 1559.

Key to the church: S. Sørensen, Ullitshøjvej 114.