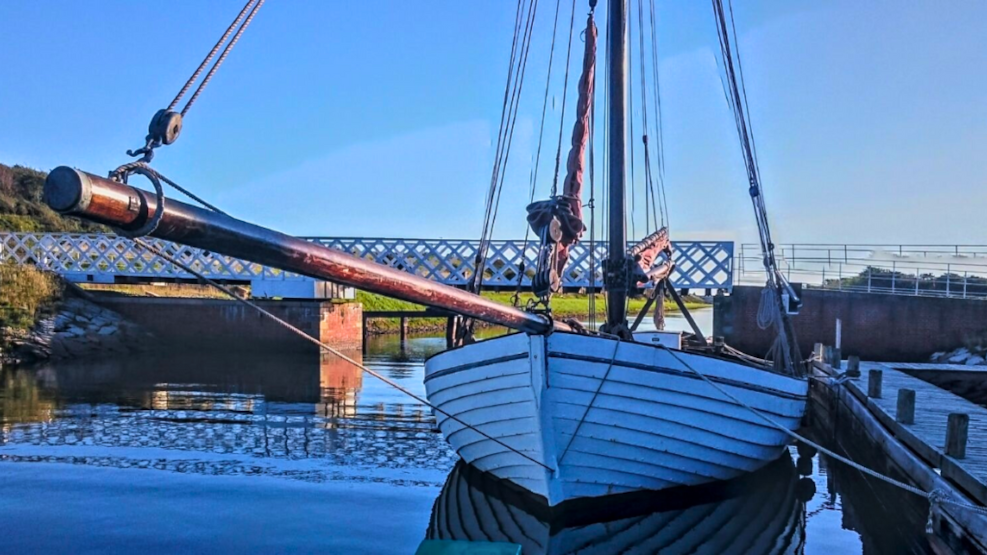 UNESCO recognized clinker shipbuilding at Limfjordsmuseet
Experience an important piece of Danish history at The Limfjord Museum and see their clinker-built boats, which are a construction technique from a bygone era.
After more than a year of anticipation, clinker shipbuilding was included on UNESCO's prestigious lists in 2021. This means that clinker shipbuilding and the tradition behind it are officially recognized as living cultural heritage that should be protected and preserved for future generations.
You might be thinking, what in the world is clinker shipbuilding? Put your feet up and get comfortable, because now it's going to get technical.
Clinker shipbuilding is a method of constructing the hull, also known as the "body," of a ship or boat. It's a technique that has existed in the Nordic region for over 1000 years. Quite simply, clinker shipbuilding involves placing each plank in such a way that it overlaps the previous plank. Subsequently, the planks are fastened with rivets that pass through both planks. The construction itself requires precision and technical skill to ensure that the boat is sturdy and, most importantly, watertight.
This technique has been used to build everything from rowboats to warships and merchant vessels, and has played a crucial role for Denmark as a maritime nation. With robust boats, Danes throughout history have been able to sail from coast to coast, uniting the Nordic people or crossing foreign oceans in pursuit of new trade routes.
The Vikings
One of the most well-known examples of clinker-built boats is the Viking ships from the Viking Age, as this technique made the ships strong, durable, and capable of withstanding water and waves. In many ways, the Viking ships were one of the reasons for the success of the Nordic Vikings in establishing settlements across the entire North Atlantic, not to mention the foundation of the Scandinavian kingdoms.
Where can you see them?
If you've become more curious about this part of Danish history, you can experience clinker-built boats at The Limfjord Museum. Here, you can see them in Frederik VII's Canal or in the indoor exhibition. Take a walk along the canal and see if you can spot the clinker-built boats, each of which has its own name. You can, for example, see the dinghy Afrodite, which dates back to the mid-1800s when it was used for fjord fishing. Or become acquainted with the motor dinghy Inga from 1950, which has been used for fishing in the Limfjord. What's special about this dinghy is that it has a pond for storing live eels.
If you want to try your hand at rowing a clinker-built boat yourself, The Limfjord Musem lends out their three rowboats to guests who have paid the entrance fee. This way, you and your family can explore the canal and sail to Kanalfogedens Køkken, where you can enjoy your lunch in beautiful surroundings.
Destination Himmerland © 2023