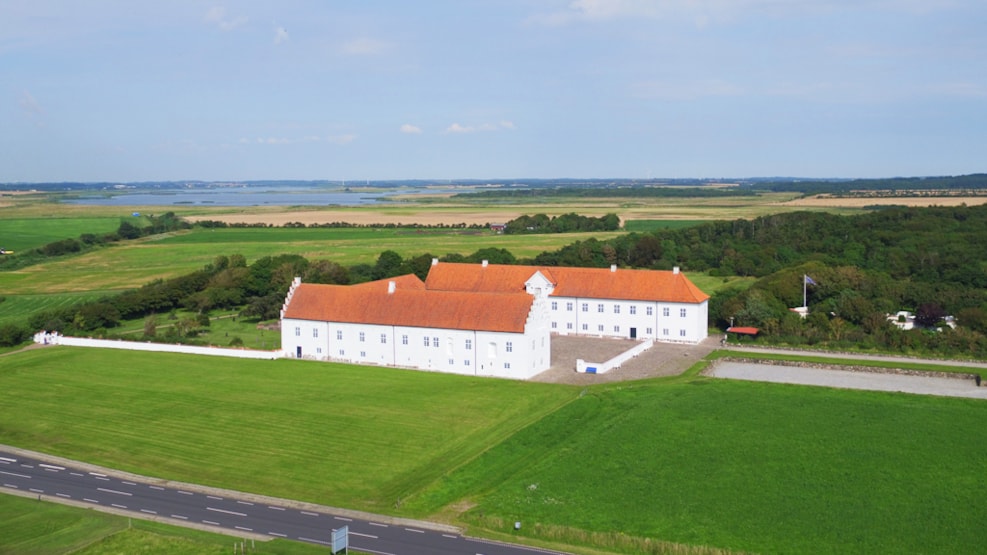 Vitskøl Monestery
Vitskøl Kloster is one of the oldest monastery complexes in Northern Europe. It is a historical gem that has been carefully renovated over the past 10 years. Today, the monastery appears as a unique architectural complex that can host courses, conferences, and meetings.
Jesters, knights, and other performers at the Medieval Days
If you visit Vitskøl Kloster during the Medieval Days, you can experience jesters, knights, maidens, troubadours, and other performers. There are activities for both children and adults. You can immerse yourself in the Middle Ages through tastes, smells, and sounds. Witness knights fighting, the old lady cooking by the fire, or jesters playing characteristic medieval melodies.
A modern educational institution
In addition to being a conference center and tourist attraction, Vitskøl Kloster also serves as a modern educational institution. Vitskøl is operated by Træningsskolens Arbejdsmarkedsuddannelser (TAMU), a nationwide educational system for vulnerable youth, providing them with a foundation in the job market. The young students in training maintain the monastery, care for the animals and the landscape, cook meals, and tend to the monastery garden and farmland. In this way, Vitskøl represents not only a piece of Danish history but also a vibrant part of the present.
The famous herb garden
Vitskøl Kloster is renowned for its large herb garden. Visit it and explore the old ruin. There is an opportunity to purchase plants from the nursery.
Guided tours from May 1 to September 1, Monday to Friday at 3:00 PM
On all weekdays from May to September, you can join a guided tour of the monastery at 3:00 PM. You'll have the chance to see the Blue Room, the Church Hall, the Monks' Cellar, the coffee room, and more. The history is narrated by students from the TAMU education at Vitskøl Kloster via video. Remember to bring your smartphone to make the most of the tour.
Price per person: DKK 40,- when purchasing a ticket to the herb gardens DKK 20,-
Children under 14 years: Free
If you visit Vitskøl Kloster on a regular day, you can take a pleasant stroll in the ancient herb garden, which dates back to the time when the monks tended to it. The monastery holds a vast history that you can almost sense as you walk around the garden and the buildings.