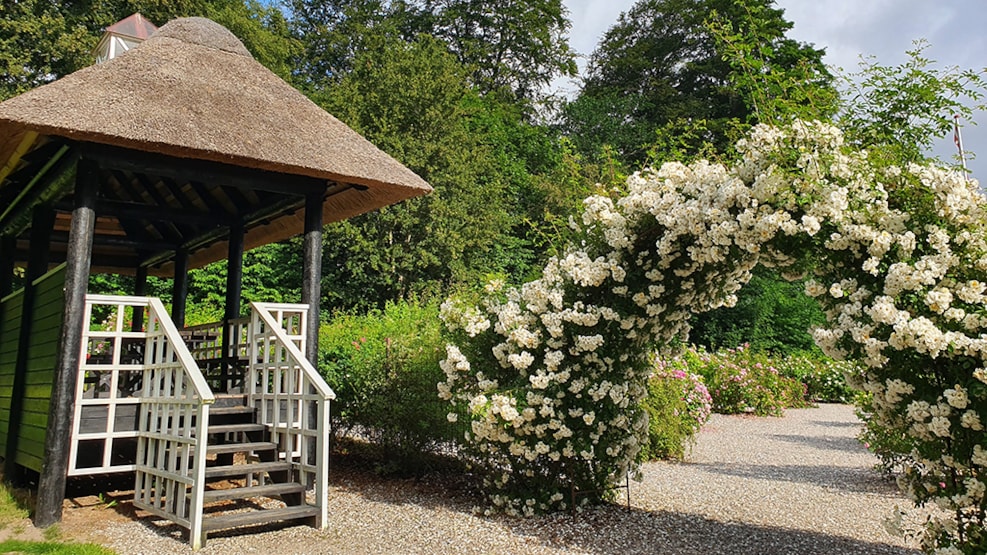 Rosenhaven - the Rose Garden in Mariager
Here, visitors can enjoy the sight of no less than 400 different species of roses amongst around 800 plants.
Rosenhaven contains roses of all sizes, colours and scents from all over the world. There are ancient roses, as well as the latest trends in roses. The shrub rose, Rosa X Sancta, which adorns some of the garden's many rose arches, is the oldest known cultivated rose. This type of rose was found in Egyptian burials dating to around 170 BC. Over the centuries, the rose has also often been planted near churches and monasteries and its name means "the holy rose", which is why it's also associated with Mariager Abbey.
Amongst the more recent roses, many visitors will look forward to seeing the refined red rose, "Our Last Summer". This was created by the Danish rose breeder, Rosa Eskelund, and named by the rose enthusiast, Danish actress, Ghita Nørby, in 2013. The rose has won many international prizes and has become very popular, especially in Italy.
When the garden is in bloom, the 22 flower beds light up in a wealth of colours and unusual scents, including that of a rose crossed with an apple. There's also a type of rose known as Bizar, which you can only see in Mariager Rosenhave!
The roses blossom from May until the frosts start. The rose garden covers an area of 2,000m2.
As the roses are planted in a system, in which they're exhibited according to their historical context and species, the garden is also a rosarium. Its' a place for romantic times, sitting and tranquillity, where you can read a book whilst enjoying the lovely scents.
Children are welcome – and if they get tired of looking at the roses, they can always run around in the attractive nature playground at Rosenhaven.